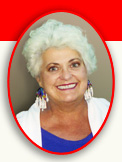 TERRY LEE WELLS
The information below has been compiled from a variety of sources. If the reader has access to information that can be documented and that will correct or add to this woman's biographical information, please contact the Nevada Women's History Project.
At A Glance:
Born: March 9, 1941
Died: July 4, 2002
Maiden Name: Terry Lee Wells
Race/Nationality/Ethnic Background: Caucasian
Married: William Floyd (1963)
Children: W. Randall Wells
Primary City and County of Residence and Work:
Reno, Washoe County, Nevada
Major Fields of Work: Volunteerism and philanthropy
Biography
Reno philanthropist remembered for lifelong volunteerism
People traveling on South Center Street in Reno see the sign: Terry Lee Wells Nevada Discovery Museum. They might bring their kids for a visit, or drop in themselves to view a science exhibit.
Most of them probably don't know who Terry Lee Wells was or why her name is attached to the Discovery. But those who knew Terry Lee as a child attending Reno schools, or later in life when she devoted much time to philanthropic endeavors, remember a woman who was fun-loving, a little outrageous and generous.
"She was a friend from the time we were 9 years old; we met in Mount Rose school," said Terry Lee's long-time friend Mimi Patrick. "The first time I met her, she offered to punch me in the nose. She got me on the side of the nose. I've no idea why. I think she was trying to dominate me, but it did not work, and we became friends instead.
"She went to college, I was gone from Reno for a while, then came back, and we picked up our friendship again," Patrick said.
Terry Lee Wells was born March 9, 1941, in Reno to Howard A. and Lucia Wells. Her father was president of Wells Cargo, a Reno trucking company. She attended Mount Rose Elementary School, Billinghurst Intermediate School and graduated from Reno High School in 1959.
In 1955, at Billinghurst, she became a member of the newly-founded Junior Miss Auxiliary of the Washoe Medical Center Women's League. This early example of her volunteerism involved feeding hospital patients, delivering flowers and running errands between hospital departments.
After college at Washington State University, and back in Reno, she volunteered for organizations such as the Reno Service League, which became the Junior League of Reno. She was a member of the Assistance League of Reno and a board member of the Nevada Self Help Foundation. Wells also helped create the Nevada Diabetic Association for Children and Adults.
She married William Floyd of South Carolina in 1963. The couple made their home in Reno. After their divorce, she married a second time. Terry Lee had one son, Randall Wells, who died in 1994 at age 27.
Lifetime friends recall Terry Lee as fun-loving, slightly mischievous and generous.
"We met when we were in second grade at Mount Rose School. We were in Brownies together," said Marilouise Brayer. The friends belonged to the Reno Junior Ski Program and skied at Sky Tavern every Saturday morning during the winter.
When the girls were in about fourth grade, they decided they wanted to make some spending money. So they went door-to-door in their neighborhood, asking people if they had any work that needed done.
"At a house near me – I think it was a boarding house – the woman there said we could do dishes," Brayer recalled. "You should have seen the pots and pans." After about two hours working "like little demons," the woman handed each girl a single quarter.
"Terry had a great sense of humor," Brayer said "We stayed friends all through high school. At reunion times, I remember her being there. We were a close-knit group."
After graduating from the University of Nevada, Brayer married William Floyd and lived away from Reno for more than 45 years. But she and Terry Lee saw each other when Brayer visited Reno.
"I was living in Plumas County (Calif.) when she died, but I was at her funeral," she said. "I wish I could have spoken about her because I was her first really close friend."
Terry Lee was flamboyant in her clothes and jewelry, Patrick said. And she gave parties.
"We were very close," Patrick said. "She could be extremely generous. Then turn around and be stingy as hell. That was part of the flamboyance, I guess."
Later in life, Wells and Patrick sometimes traveled together, including a trip to Ireland.
"I think it was in Limerick; there were many hotels related to the railroads," Patrick said. "We were staying in a hotel with a big skinny bathtub. I took a bath and told Terry how great it was. She went in and was in there a long time."
Patrick recalled hearing whooshing noises coming from the bathroom.
"Then I heard a funny little voice saying, 'I'm stuck.'"
Terry Lee was "a large lady," Patrick said. "I had to help her out. If I hadn't gone in, she'd have still been in the bathtub."
Janet Lerude met Terry Lee in high school.
"Mostly, I think of her later years," Lerude said, "when she was sick with diabetes. She loved tapioca, so I made that for her, with very little sugar."
When Terry Lee died, Lerude chose a picture that hung in Terry Lee's bedroom to remember her.
"It's a picture of Notre Dame and a bridge over the Seine River. It's a nice oil painting. I think of her when I look at it."
Terry Lee was always ready for a party, despite her health problems, Lerude said.
"She was full of fun and loved to have fun," she said.
Wells founded the Terry Lee Wells Foundation in 1999, according to the Discovery Museum website. After her years of supporting Nevada organizations focused on the underprivileged, especially women and children, the foundation was designed to carry on that legacy and to fulfill her dreams of "reaching out, touching hearts, changing lives."
It began as a small foundation, said Eloise Esser, an original Foundation board member along with Terry Lee and her cousin, actress Dawn Wells. After Terry Lee's death, the foundation inherited about $13 million and enhanced its charitable work.
The concept for the Nevada Discovery Museum came from Chris Riche, said board member Lynn Atcheson. According to the museum website, in 2004, Riche, a local entrepreneur, ran a feasibility study and determined that Reno needed an educational organization like the Discovery, so he formed a board and began raising the funds.
"He had an incredible business plan," Atcheson said. "He kept me in the loop as he was progressing. I was not on the foundation at the time, but recommended to (board member) Charlotte McConnell that they look at this. The foundation then gave a small gift."
After Atcheson joined the board, "we talked for quite a while and decided that the Discovery Museum would be something that fit for her. They needed a large gift. We committed to $4 million and asked that it be a naming gift."
So Terry Lee's name was added to the Nevada Discovery Museum name. The museum was something Terry Lee, with her determination to contribute to things for children and families would have loved, Esser said. The foundation donations proved to motivate other donors, she said.
"We donated right along since then," she said.
The foundation also contributed to a variety of non-profits, including diabetes organizations, groups that helped women and children, and scholarships.
The foundation "was to give money wisely to projects that made a difference to women and children," Atcheson said. "We set a five-year goal. It timed out about right with the gifts we gave."
Terry Lee had innocence about her, Esser said. "She was wonderful to be around. She was a good spirit."
In May 2018, the foundation was dissolved, but its legacy is represented by its partnership with the museum, which opened in 2011. The Terry Lee Wells Foundation has given more than $8 million to the museum, providing support for a variety of museum programs and initiatives.
Researched and written by Susan Skorupa Mullen
Sources of Information:
"Assistance League of Reno-Sparks Board of Directors." Reno Gazette-Journal (Reno, Nevada), March 21, 1995, p27:1.
Atcheson, Lynn. Personal interview. March 2019, Reno, Nevada
Brayer, Marilouise. Personal interview. March 2019, Reno, Nevada
"Chapel Choir in Program for church group." Reno Evening Gazette, February 19, 1952, p. 10:5.
Esser, Eloise. Personal interview. March 2019, Reno, Nevada.
"Junior Miss Auxiliary Organized in Reno." Nevada State Journal (Reno, Nevada) August 23, 1955, p5:4.
Lerude, Janet. Personal interview. March 2019, Reno, Nevada
"Mississippi Melody Operetta Presented." Reno Evening Gazette (Reno, Nevada), April 2, 1955, p3:3.
Patrick, Mimi. Personal interview. March 2019, Reno, Nevada.
"Plan Installation Rite for Mount Rose Rainbows." Reno Evening Gazette (Reno, Nevada), May 23, 1958, p. 6:1.
"Plans Revealed at Party." Reno Evening Gazette (Reno, Nevada), June 22, 1963, p2:1.
"Your Neighbor and Mine." Reno Evening Gazette (Reno, Nevada), October 12, 1963, p. 7:7.
"Terry Lee Wells." Reno Gazette-Journal (Reno, Nevada), July 7, 2002, p. 30:1.
Terry Lee Wells Nevada Discovery Museum, https://nvdm.org. Accessed February 3, 2019.
"Winners in the Christie." Reno Evening Gazette (Reno, Nevada), May 5, 1954, p. 19:1.
"W.R. Wells.", Reno Gazette-Journal (Reno, Nevada), February 26, 1994, p13:1.