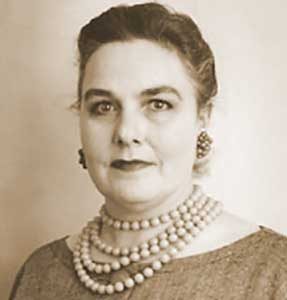 THELMA DAVIS CALHOUN
The information below has been compiled from a variety of sources. If the reader has access to information that can be documented and that will correct or add to this woman's biographical information, please contact the Nevada Women's History Project.
At A Glance:
Born: August, 19, 1913
Died: October 25, 1998
Maiden Name: Davis
Race/Nationality/Ethnic Background: Caucasian
Primary City and County of Residence and Work:
Carson City (Ormsby)
Parents: Grant F. and Mary Harrah Davis
Siblings: Gladys Elizabeth ("Betty") Barney and Grant Davis
Children: James G. Calhoun and Patricia ("Pinky") Calhoun
Major Fields of Work: Politics, Civic leader, Painter, Wife, Mother, Grandmother
Other Role Identities: University of Nevada Distinguished Nevadan, 1978, Carson City, Nevada, Women of the Year, 1979
Biography
Thelma Davis Calhoun was born August 19, 1913, in Warren, Ohio, to Grant Davis and Mary Harrah Davis. Her father, Grant, was an advertising manager for the Fireproof Company and her mother, Mary, as was the custom of the time, remained at home. Sister Gladys Elizabeth ("Betty") was born in 1915 and younger brother Grant was born in 1918 after the family had moved to Lima, Ohio. Thelma's father was now a sales-manager for an equipment company in a city that had grown to over 41,000 inhabitants as a result of industrial expansion in the area. Thelma attended Lima High School in Lima and then went on to attend Ohio State University in Columbus, Ohio and later St. Rita's School of Nursing in Lima, Ohio. As a young adult she worked at the Jersey Medical Center in Jersey City, New Jersey, and then briefly attended the Ethel Traphagen School of Design in New York – a company that was famous for introducing shorts and slacks into American women's fashion.
Bill Kroger, Thelma's nephew, related the following story: In the early 1930s, Thelma's uncle George had "won, in a poker game in Chicago, part of a Montana mine and smelter operation and promptly went out there to check on his new holdings. Thelma came to visit and Uncle George got the on-site manager to escort her so she wouldn't fall for any of the rough miners, but she fell in love with the on-site manager" and married him on May 12, 1935. The Calhoun's subsequently moved to Grass Valley, California, then Seattle, Washington. After World War II, the Calhoun family, which now included son Jim and daughter "Pinky", pooled their gas rations and with a flip of a coin at every crossroads, ended up in Carson City, Nevada, where they were unable to find a place to live. Bill Kroger related that Thelma found that a big three-story building, the former Parrish house, behind the Catholic Church in Virginia City, was available so she drove to Reno, met with the bishop, and signed a contract to live there. Virginia City became a special place for Thelma and she later became very active in the art community there and in 1959 was appointed to the Virginia City Silver Centennial Committee by then Governor Charles Russell.
In 1944 the Calhouns moved to Carson City, Nevada, and Thelma's life of politics, art and community service began. In 1946, she went to work for Mildred Bray, State Superintendent of Public Instruction and in 1947 she was put in charge of securing war surplus for Nevada schools as well as watch-dogging and licensing G.I. Schools. She then became Deputy to E.A. Haglund, Director of Indian Education, and travelled throughout northern Nevada taking educational films from the University of Nevada to the various Indian Reservations and Colonies. In 1949 Jeff Springmeyer asked if she would like to serve on the newly fledged Legislative Council Bureau – at the time comprised of Jeff Springmeyer, Al Jacobsen and Thelma. She worked there until 1954 when she "retired" to devote more time to painting. When her son Jim returned home from deployment in Germany and needed financial assistance to complete his education at the University of Nevada, Thelma once again became employed, this time as the Deputy United States Marshal in Carson City where she handled the funds for the U.S. Court, the U.S. Parole and Probation Offices, the Marshal's offices and the United States Attorney's offices. In written recollections, she notes she "also shot the FBI pistol course and delivered female prisoners to Salt Lake and Las Vegas." She had made some valuable suggestions for changes in the Marshal's Manual during her tenure there (1957-1960) which saved the U.S. Department of Justice according to Thelma "a lot of money" and for which she was awarded a cast of her badge as U.S. Marshall with an inscription of: "In recognition of her exceptional service in the U.S. Marshal's Office 1956-1960." She was also granted the first cash award ever given to a Nevadan in the amount of $250.00 which in 1960 was considered big money! On March 20, 2012, Dollartimes.com/calculators/inflation.htm calculated the $250.00 Thelma was granted in 1954 as worth $2,097.32
That year she again terminated her employment in order to concentrate on her painting and she began painting in earnest. Over the course of her life, she sold over 500 paintings. She taught painting classes at Saint Mary's Art Center in Virginia City, adult education classes in Gardnerville, at the Western Nevada Community College and at the Nevada State Prison. Friend, Jim McCormick said, "Calhoun almost singularly was responsible for the creation of the Nevada State Council on the Arts." In 1967 she was appointed to the Nevada State Council on Arts by Governor Paul Laxalt and in 1972 she was reappointed by Governor Mike O'Callaghan. In 1979 Governor Robert List appointed her to the Storey County Historic Appeals Board and in 1982 she was reappointed to the Nevada State Council on the Arts by Governor Richard Bryan.
In 1966, Thelma ran and was elected to the Carson City Council and worked to accomplish the consolidation of the city and county offices since there was a duplication of services. She held that office until 1969. In 1974, she was asked and ran for the Carson City Board of Supervisors. She was elected and served from 1975 until 1979 – the last two years she served as Mayer pro Tempore. During that time and for another year (1975 – 1980) she also served as Chairman of the Senior Citizens Advisory Committee. As a member of the Board of Supervisors, Thelma was instrumental in securing procurement of a public works grant for the establishment of the Brewery Arts Center in Carson City. She served on the Nevada Day Committee for 12 years. She was their resident artist helping with designing program covers, posters, writing scripts and designing commemorative buttons. She served on the Carson City Growth Management Committee from 1976 through 1977. She was actively involved in raising funds for both the first and second Carson Tahoe Hospitals. She was one of the creators of the Carson City Historical Commission which later became the Heritage Society.
Throughout all this time, Thelma and husband Jim, employed as Director of the Nevada State Museum, were raising their two children Jim and Pinky, and Thelma was second mother to her sister Betty's three children, Lyn, Bill and Grant. Nephew Bill stated: "My recollections of Thelma center on the word awe. She was bigger than life, a powerful lady full of passion. She lived next door to us from the time of my earliest memories until I was in high school. My mother was her younger sister and often relied on Thelma, and Thelma became a second mother to me. Her home was always open, and we spent a lot of time there. Thelma was the person to go to when serious decisions had to be made or there was a crisis. She always came through." Thelma had the first Cub Scout Troop in Virginia City. She taught two 4-H sewing groups and was county Chairman for the Girl Scouts. She wrote she was "always room mother, chairman of the decorating committees for two eighth grade graduations and two Junior Proms." Her decorating skills carried over into her adult life and she was also Chairman of Governor Charles Russell's and Governor Paul Laxalt's Inaugural Balls – some eight years apart.
During her lifetime, Thelma received many awards from many organizations. Notable among them were: Distinguished Nevadan awarded to her by the University of Nevada in 1978, Woman of the Year awarded to her in 1979 by the Carson City Chamber of Commerce, The American Economic and Social Development and Education award given to her in 1988 by the Soroptimists International, and in 1989 Thelma received the Governor's Arts Award for Distinguished Services to the Arts. Thelma and her husband Jim gave back to the community too. In 1954, they had formed the James W. Calhoun Foundation and throughout the 55 years of the foundation's existence money was granted to the Nevada State Museum, later to be absorbed by the Department of Tourism and Cultural Affairs, and to organizations such as the Capital City Arts Initiative and other cultural/artistic organizations in the Carson City area.
In addition to painting and heading groups such as the Nevada Artists Association (NAA), later to become the Carson City Arts Alliance (CCAI), Thelma helped the Nevada State Museum with projects like restoring an early twentieth century movie curtain. When the curtain was rediscovered in Jarbidge (near the Idaho border) in 1963, it was found to have suffered the effects of time. Once bright colors had faded, holes had found their way into the hanging and the curtain was brought to the State Museum in Carson City. Thelma, now retired, suggested it be restored and restored it she did. The curtain was taken to its original but recently restored home in Jarbidge in July of 1974.
In 1989, Thelma with the assistance of the Capital Quilters, created a quilt in honor of 125 years of Nevada's Statehood. The quilt consisted of 14 squares surrounding a central rectangle. The State Capitol occupies the large centermost rectangle and is surrounded by 14 squares, each depicting a local Victorian era home or building. The squares were adapted from original architectural drawings and sketches drawn by Thelma Calhoun. It took 21 quilters over 500 hours to assemble and finish the quilt which was presented to the State of Nevada on October 31, 1989. The quilt currently hangs in the State Capital.
The Legislative eXhibition Series (LXS) has presented solo shows of artwork by Nevada's visual artists through the Nevada State Legislature Building since 1985. Thelma Calhoun's art was showcased in 1989.
Jim and Thelma had five grandchildren. Nephew Bill Kroger recalled: "In later years, Thelma's New Year's Eve parties for her grandchildren were legendary. She would turn her dining and living rooms into a magical place, making tents out of sheets over the dining table, serving all the snacks kids love and their parents hate and setting up exciting and complicated games and scavenger hunts. The kids loved it."
Thelma passed away October 5, 1998 at age eighty-five. Her paintings, her service to her community and her family survive as her legacy.
On April 30, 1999, the 70th Nevada State Legislature memorialized Thelma Davis Calhoun as "a gifted artist and dedicated servant of the state…." Senate Concurrent Resolution No. 36 also stated: "Whereas, her artwork was characterized by careful attention to detail, a sound sense of composition and lively color, as evidenced in the piece which graced the cover of the Nevada Bell telephone directory for Reno's Centennial Year in 1969 and other pieces which can now be found, among other places, in the Carson City Community Center and the Brewery Arts Center and on the cover of the Political History of Nevada, 1996, Tenth Edition…"
At the July 2, 2009 Carson City Board of Supervisors meeting, Carson-Tahoe Hospital Foundation Trustee Jo Saulisberry presented a 1969 Thelma Calhoun watercolor painting of Treadway Park to Carson City. She also provided background information on Thelma's paintings of various historic sites and structures in both Carson City and Virginia City and reminded the Board of Thelma's service as a member of the Board of Supervisors in the 1970s. Carson City was holding a Treadway Park Rededication Celebration on July 4th, 2009, and the presentation of the painting was given as part of the celebration.
Researched and written by Marcia Bernard Cuccaro. Posted on Web site April 12, 2012
Sources of Information:
Charles HARRAH

Source Citation: Year: 1870; Census Place: Franklin, Jackson, Kansas; Roll: M593_435; Page: 287B; Image: 52; Family History Library Film: 545934.
Source Citation: Year: 1880; Census Place: North Beaver, Lawrence, Pennsylvania; Roll: 1144; Family History Film: 1255144; Page: 193A; Enumeration District: 219; Image: 0586.
Source Citation: Year: 1900; Census Place: Newcastle Ward 6, Lawrence, Pennsylvania; Roll: 1427; Page: 10A; Enumeration District: 109; FHL microfilm: 1241427.

Nan HARRAH

Source Citation: Year: 1910; Census Place: Cleveland Ward 18, Cuyahoga, Ohio; Roll: T624_1173; Page: 7A; Enumeration District: 0284; Image: 574; FHL microfilm: 1375186.

Grant DAVIS

Source Citation: Year: 1900; Census Place: Croyle, Cambria, Pennsylvania; Roll: 1388; Page: 7B; Enumeration District: 114; FHL microfilm: 1241388.
Source Citation: Year: 1910; Census Place: Jackson, Cambria, Pennsylvania; Roll: T624_1324; Page: 23B; Enumeration District: 0117; Image: 653; FHL microfilm: 1375337.
Source Citation: Year: 1920; Census Place: Mount Oliver, Allegheny, Pennsylvania; Roll: T625_1515; Page: 9B; Enumeration District: 259; Image: 579.
Source Citation: Year: 1930; Census Place: Lima, Allen, Ohio; Roll: 1747; Page: 18B; Enumeration District: 29; Image: 296.0; FHL microfilm: 2341481.
Thelma Davis Calhoun – Obituary, Reno Gazette Journal, Sunday, November 8, 1998
Nevada artist Calhoun leaves behind a legacy: Reno Gazette Journal, Thursday, October 29, 1998, page 6D
A Dream Comes True; In Focus Magazine Spring/Summer 2011, page 4
www.waymarking.com – Nevada's 125th Anniversary Quilt – Carson City, NV – Community Commemoration
Nevada State Museum Newsletter-museums.nevadaculture.org/dmdocuments/mus-let30.-pdf "NWM Helps Restore Jarbidge Community Theater Curtain"; Nevada State Appeal, July 1974, page four.
Senate Concurrent Resolution No. 36 – 70th Session 1999
www.leg.state.nv.us/Session/70th1999/Journal/Senate/sj089.html
Interesting Traphagen Facts: www.oocities.org/cabrooks/newspage201.htm
Lima, Ohio: www.cityhall.lima.oh.us
$ Dollar Times; www.dollartimes.com/calculators/inflation.htm-July 2, 2009 Carson City Board of Supervisors meeting minutes
Thelma Calhoun – non published notes
Bill Kroger – non published notes
Bill Kroger – email – "Info About Thelma" (February 20, 2012)
Linda Jeffers-Spencer–emails – "Thelma Calhoun (Bill Kroger), (February 17, 2012) and (February 27, 2012)
*Note: All source information available in the Thelma Calhoun file which can be located at The Nevada Historical Society, Reno, Nevada.