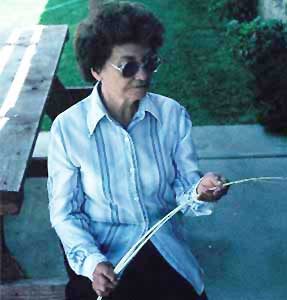 THERESA SMOKEY JACKSON

The information below has been compiled from a variety of sources. If the reader has access to information that can be documented and that will correct or add to this woman's biographical information, please contact the Nevada Women's History Project.
At A Glance:
Born: July 1, 1916, Minden, Nevada
Died: October 29, 1999, Reno, Nevada
Maiden Name: Theresa Smokey
Race/Nationality/Ethnic Background: Washoe Indian
Married: Scotty Fillmore, Donald Green, Ronald Jackson
Children: William Elwood, Pamela Susan
Primary City and County of Residence and Work:
Dresslerville, Douglas County, Nevada
Major Fields of Work: Educator, Basket weaver
Other Role Identities: Wife, Mother, Speaker for Washoe Tribe, Interpreter, Consultant
Biography
Theresa Smokey Jackson was born on July 1, 1916 in Minden, Nevada, to William and Sadie Joe Smokey, Washoe Indian natives. Theresa was one of twelve children. As times changed, the Washoe people and the Smokey family changed their way of life from hunting, fishing, and gathering to working as laborers on nearby farms and ranches. In 1917, a man named Fred Dressler donated 40 acres to be used as the Dressler Indian Reservation, so that the Washoe Indians would have a home base rather than being scattered throughout the area. Eventually, the Smokey family moved to Dresslerville, approximately six miles south of Gardnerville. There, Theresa and her siblings learned the Washoe culture, traditions, and language, often traveling to Lake Tahoe and nearby hills to gather the traditional foods of pine nuts, acorns, wild onions, and berries. The children participated in the food preparation, pounding nuts into powder and danced in Washoe ceremonies, including the girls' puberty dance, the rabbit dance, and the pine nut dance.
Because Washoe native children were not allowed to attend school in Gardnerville, an elementary school was built for them in Dresslerville. They learned to speak English, as they were not allowed to speak their native language at school. After completing elementary school, Theresa attended Stewart Indian School, south of Carson City, but because she was lonely and prone to crying, she was sent back to her family.
Growing up in the Carson Valley, Theresa had many positive experiences with her family, church, and school. Basketry was an important part of her life. When she was a teenager, she learned to weave baskets by watching her mother and older sister. Later in life, basketry became one of her major interests and talents. Unfortunately, she also experienced the prejudice, segregation, and curfews of the local townspeople.
When Theresa was 18 or 19 years old, she married Scotty Fillmore. They were married in "the Indian way," by just saying, "We are married." At the time, this was considered a legal marriage, as this was the way it was always done in this Indian community. Early in their marriage, Theresa and Scotty worked and lived on ranches in the area. In the 1930s, homes were being built on the reservation for the Washoe. Theresa and Scotty moved into their own home on the Dresslerville Reservation in 1939. Helping to build the house had been their payment. Two children, William Elwood in 1949 and Pamela Susan in 1950, were added to the Fillmore family. Nine years later, Scotty Fillmore died. Theresa later married Donald Green but was divorced four years later. In the early 1970s she married Ronald Jackson, a Kiowa Indian.
Later in her life, Theresa again picked up the willow and began making beautiful baskets, specializing in the cradleboard or baby basket. She became a master weaver and demonstrated her techniques at educational and historic events throughout the aboriginal areas of the Washoe people. As a delegate for the Washoe Tribe Basket Exhibition, she participated in the Festival of American Folklore in 1989 at the Smithsonian Institute in Washington, D.C. She also worked in schools teaching and demonstrating basketry and the folkways she practiced. In 1991, Theresa was granted the Folklore Basket Weaving Award by the Nevada Humanities Commission. She was a member of the Hawaii Cultural Exchange Program and was honored as a grand marshal of the 1992 Fourth of July parade in Carson City.
As a speaker for the Washoe Tribe, Theresa offered prayer blessings in the Washoe language on many occasions, including the Special Olympics, the opening session of the Nevada State Legislature, the Presidential Forum at Tahoe, and the opening of the US. Forest Service Lake Tahoe Basin Tallac Historical Site, where the Washoe natives traditionally spent the summer months. She was the interpreter for the Washoe Blessing at the Governor's Breakfast in 1991 and 1992, and was recipient of the Governor's Arts Award in 1995.
Theresa was extremely active and involved in the Senior Center Program at the Dresslerville Community Center, chairing the Advocacy Council for that program. She was also a director of Building Traditional Homes at Lake Tahoe Baldwin Estates. But most importantly, she was a spiritual person. She never forgot the teachings of the Baptist missionaries who came to the reservation when she was a young woman. She knew she had a special gift and became a spiritual leader for the Washoe tribe. Many people from all races came to her home asking her to pray for them. No one was turned away. If necessary, she traveled to people's homes to pray for them. From 1984 to 1994 she was a teacher at the Washoe Baptist Church Sunday School. These are but a few of the many contributions made by this Washoe woman who received countless state and national honors and awards. On October 29, 1999, Theresa Smokey Jackson, age 83, died at the Washoe Medical Center in Reno, Nevada, respected, admired, and loved by so many.
Researched and written by JoAnn Martinez and Doris Drummond. Posted to Web site January 2011.
Sources of Information:
Carey-Sage, Darla. The Life History of a Contemporary Washoe Woman. n.p., 1995.
Notes written by the Chairman of the Washoe Tribe.
Women's History Remembering Project, Carson Valley Historical Society, February 2000.