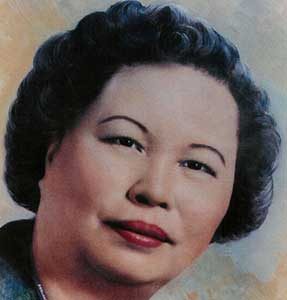 TING SOO HOO ONG

The information below has been compiled from a variety of sources. If the reader has access to information that can be documented and that will correct or add to this woman's biographical information, please contact the Nevada Women's History Project.
At A Glance:
Born: 1907 in China
Died: August 1991 in San Francisco, California
Maiden Name: Hoo
Race/Nationality/Ethnic Background: Chinese
Married: Shing Ong in 1925
Children: Six
Primary City and County of Residence and Work:
Ruth, McGill, White Pine County
Major Fields of Work: Cook, Restaurant owner
Other Role Identities: Wife, Mother
Biography
Although seldom seen in the streets of McGill, Nevada, Ting Soo Hoo Ong was a vital force in feeding the residents of this bustling mill and smelter town, especially during World War II. Ting's 16-hour days in her family's restaurant kitchen represented an unsung contribution to the country's war effort as she and her husband, Shing, fed many workers who produced one-fifth of the copper, gold and molybdenum produced in the United States during the war. Although she spoke little English, this Chinese-born woman assisted her husband with running a restaurant while raising six children.
The only daughter in a family of eight sons, Ting Soo Hoo was born in 1907 in a small Chinese village about 100 miles west of Macao. She was eighteen when she married Shing Ong who had lived in the United States as a student sponsored by his father, a merchant living in Salt Lake City. While a student, Shing traveled throughout the western U.S. and later returned to Guang Tung Province in China where the Ong family had settled 500 years earlier. Ting and Shing started their life together in a small village in the Kai Ping District known only as the "village of three new houses." Shing and his two cousins built the houses for their family farms in 1929, and all three houses still stand today.
Life in China for Ting and Shing during their early years as a married couple was dangerous and tenuous. Food production was uncertain; the Communist and Nationalist armies were engaged in fierce fighting; warlords moved into any area they could; and banditry was endemic. The Japanese invaded Manchuria in 1931 and by the end of 1938 occupied a large part of China. Searching for a better life, Shing returned to the U.S. in 1931 to establish a new home for his family. He purchased a café in Ruth, Nevada, a mining community in White Pine County and home of the Ruth Copper Pit, one of the world's largest open pit mines. Five years later Shing purchased the McGill Café, eighteen miles from Ruth and McGill's only café. McGill was the site of the huge mill and smelter operation. During this time, Ting remained in China waiting for her immigration permit. Shing made frequent trips to visit her.
In late 1939 Shing arranged for friends to run his two cafes and sent word for Ting to meet him in Hong Kong. Escorted by her uncle, Ting left home with their two boys, eleven year old Tommy and nine year old Him. Taking few belongings, they traveled mostly by night to avoid Japanese patrols and local bandits. They traveled the hundred miles to Macao by walking, bicycling, and taking boats. From Macao, they made their way to Hong Kong, joined Shing and found transportation to Vancouver, Canada. They then made their way to Seattle, San Francisco, Wells, and in mid-summer of 1940, to McGill, a journey that lasted over six months. Ting and Shing moved into a small house behind their café. Their friends who had been running the café celebrated with them at the restaurant, after which Tommy left with Uncle Eng Soo (no relation) to go to work in the Ruth Café. Ting spent the remainder of her first day in McGill working in the kitchen, with her younger son Him standing on a box so he could help wash the dishes.
The customers and townspeople of McGill seldom saw Ting as she spent nearly all her time in the café kitchen or at home with her husband and children. Ting spoke very little English and other than time spent with her family and rare visits to local Chinese families, she had very little social life. When the Japanese bombed Pearl Harbor in 1941 and the United States entered World War II, the four people hired to work in the McGill café left to meet the demand for workers in critical war support jobs. During the ensuing war years, the Ongs ran the café by themselves with Shing as waiter and cashier, Ting cook and dishwasher, and Him helping wherever he could.
If anyone ate a restaurant meal in the company town of McGill during those years, it was almost certainly prepared by Ting. She and Shing put in grueling sixteen hour days, and Him's day, including six hours at school, was almost as long. Ting was in the café by 5:00 a.m., seven days a week, getting ready for the café opening at 6:00 a.m. Approximately 35 men would come in for breakfast and a packed lunch if they were going to work the day shift at the mill or smelter. At the same time, the men getting off the night shift were ready for their dinner. Once when Shing was ill and Ting was running the restaurant by herself, she was forced to limit her menu to one dish. Her loyal patrons never complained and instead helped to serve meals and clean tables. Most of the customers actually paid more for their meals because they knew Ting did not know how to bill them or make change.
Although serving nearly one million meals during her fifteen years at the McGill Café was certainly impressive, Ting would probably consider raising her six children to become contributing citizens as a more enduring legacy. Tommy and Him, both born in China, because naturalized citizens. Four more children were born to Ting and Ching in the United States: Mable in 1941, Horn in 1943, Mary in 1946, and May in 1947. Him served with distinction in the U.S. Marine Corp Intelligence during the Korean War. The town banker, Mr. Preston, had taught the Ongs how to shrewdly invest their money so that in 1955 Ting and Shing sold the McGill Café and moved to San Francisco where they lived the remainder of their lives. Shing died in July 1985 and Ting died in August 1991.
Research and biographical sketch by Doris Drummond. Included in NWHP Web site March 2009.
Sources of Information:
Notes and interviews with Him Ong, 2007.