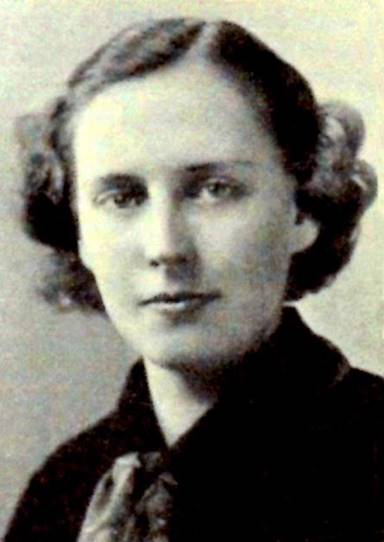 At A Glance
Born: May 23, 1916, Winnemucca, Nev.
Died: January 27, 2008, Reno, Nev.
Maiden Name: Verna Elizabeth Bullis
Race: Caucasian
Married: Victor O. Anderson, June 21, 1940, in Winnemucca, Nev.
Children: Nancy Jo DiLoreto, Vicki Jane Menante, Eric James Anderson
Primary City and County of Residence and Work: Reno, Washoe County, and Winnemucca, Humboldt County
Major Fields of Work: Teacher, writer, newspaper reporter/editor, rancher
Other Role Identities: Wife, mother, photographer, gardener, pianist
Biography
Multitalented woman taught, wrote and ranched in northern Nevada
Verna Elizabeth Bullis was born in Winnemucca, Nevada, on May 23, 1916 to Angus Cameron Bullis and Carrie Mullinix Choate. There were six children from this marriage: Carol, born in 1909, Gerwin, born in 1911, Lester, born in 1914, Clement, born in 1915, and twin girls, Verna and Vera, born in 1916.
Verna graduated from Humboldt County High School in 1934. She attended the University of Nevada, Reno, where she was a member of Pi Beta Phi Sorority, graduating in 1939 with a Bachelor of Arts degree in English.
She began her teaching career in a one-room school at the Getchell Mine near Golconda, Nev., 35 miles northeast of Winnemucca in Humboldt County. Verna married Victor O. Anderson in 1940, relocating to Reno, Nev., where Victor was hired as composing room foreman for the Nevada State Journal and the Reno Evening Gazette.
The couple moved to Alturas, California, in 1950 where they published The Alturas Plain Dealer until 1952. Verna wrote and edited the newspaper and Vic did the production. In 1952, they returned to Reno. Verna began teaching at Sun Valley Elementary School, and Vic became mechanical superintendent for the Reno newspapers.
In 1965, the couple purchased Porcupine Creek Ranch in Humboldt County. They built a new ranch house, shop and bunkhouse and restored the ranch land.
Inspired by the ranch surroundings which sit high on the foothills of the Santa Rosa mountain range above U.S. Highway 95, with views of five northern Nevada mountain ranges, Verna took up photography.
Being a native Nevadan, Verna loved and appreciated the beauty of desert sunrises and sunsets, snow-covered mountains, sagebrush, bird watching, deserted mining towns, old ranch buildings and barns – all inspiration for her beautiful photography which she enjoyed sharing with family and friends. Wildflowers were her passion. She was very proud of winning awards in State of Nevada photography contests.
She and her husband fiercely defended their views on wilderness and ranchers' and miners' range rights against the Sierra Club in an opinion published in the Reno Gazette Journal.
Verna excelled at sewing, furniture refinishing, antiquing, art-related hobbies, her children's sports and 4H activities, photography, writing and playing the piano. Knowing that her eyesight was failing but not her astute memory, Verna began to write poetry and chronicle her life. Porcupine No. 1, Grandma Says and Grandma Says More record some of her life history for future generations.
Researched and written by Eric Anderson
Sources of Information
Anderson and Bullis Family Records
"Getchell Mine Town Growing." Reno Evening Gazette, Jan. 20, 1940, p10:5.
"It's Your Turn." Opinions Section, Reno Evening Gazette, April 30, 1986, p15.
"Miss Verna Bullis Wed to V. Anderson." Nevada State Journal, June 24, 1940, p2:8.
University of Nevada Diploma – Bachelor of Arts in English, December 1939
1937, 1938 & 1939 Artemisia, Pi Beta Phi sorority"Verna Anderson." Reno Gazette-Journal, Obituary, January 28,2008, p31:3.