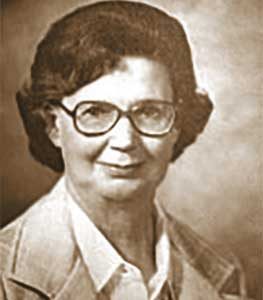 VERNA "JUNE" BRADBURY BROILI
The information below has been compiled from a variety of sources. If the reader has access to information that can be documented and that will correct or add to this woman's biographical information, please contact the Nevada Women's History Project.
At A Glance:
Born: June 1, 1919, Bancroft, Idaho
Died: August 1, 2011, Reno, Nevada
Maiden Name: Bradbury
Race/Nationality/Ethnic Background: Caucasian
Married: Julius Broili in 1941
Children: Robert
Primary City and County of Residence and Work:
Reno, Nevada
Major Fields of Work: Author, Buyer for family-owned business, Food columnist, Historian
Other Role Identities: Wife, Mother, Grandmother, Community volunteer, Teacher
Biography
June was born on June 1, 1919 to Albert and Alice (Anderton) Bradbury of Bancroft, Idaho, the daughter of a railroad family. Her father worked for the Union Pacific Railroad, which employment brought her family to Sparks, Nevada, in 1922, where she attended Sparks' schools, graduating from Sparks High School in 1936.
She earned a bachelor of science degree in home economics from the University of Nevada in 1940 and taught for one year in Wells, Nevada, before marrying Julius Broili in 1941. Her father-in-law and husband owned and operated Nevada Machinery & Electric Company, a pioneer electrical company, later known as Broili's. It was family operated until 1983. She was the buyer and a merchandiser for that company until she turned to literary pursuits in the 1970's.
June was a published writer. One of her articles appeared in the Nevada Historical Society Quarterly in Spring 1975, entitled: "Frank O. Broili: The Transformer" which chronicled the engineering and business life of her uncle-in-law. A member of the Nevada Press Women, she received an award from the National Federation of Press Women in 1997.
She studied communication in Amsterdam, Holland and journalism at UNR under Dr. Arthur Gould. These experiences inspired her to write the cooking columns for the Reno Gazette Journal, several published articles and two books. Easy Cookin' in Nevada and Tales of the Sagebrush State was published in 1985. This book has gone through 6 editions. It compiles some history of Nevada with many photographs from the Nevada Historical Society and other sources, and her well-received recipes. An addendum of more stories and recipes was published in 1985 for the University of Nevada's 100th Birthday Celebration with the forward written by well-known columnist Rollan Melton.
Her book, Church's Greenland Odyssey – Dr. James Edward Church, published in 1997, featured the famous Nevada professor, explorer, scientist, and humanitarian as he traveled in Greenland in 1927. The National Federation of Press Women awarded her third place for this book at its annual convention held at the Press Club in Washington, D.C.
She and Alice Jane Chism Fraser traveled to England to research independent living homes such as the Cheshire House and to assist disabled persons to learn how to live independently at a transition house. This led to the founding of the transition house for disabled citizens on Moana Lane in which Donald Jessup was instrumental in founding.
June served as nearly every office in Chapter F of P.E.O., a philanthropic organization that promotes educational opportunities for women throughout the world. She also was the Past Queen of Amon-Ra Temple 56 and a member of the Order of Eastern Star. She was the president of the Nevada Press Women, along with being a member of AAUW, the Nevada Historical Society, and the Sparks Heritage Association. June and Julius were active in the American Baptist Church.
June Bradbury Broili passed away on Monday, August 1, 2011, at her home in Reno after a short illness. She had been widowed since 1992. Her three siblings preceded her in death – her brother Gerald "Bud" Bradbury (1952), her sister Thelma Bradbury Joslin (2004). Her brother, Jack Bradbury, a well-known artist, died in 2010.
Her survivors are Robert H. Broili, son; Sally Sue Broili, daughter-in-law, mother of Eric A. Broili (Thor) and Susan H. Broili-Kamesch (Joshua); and three great grandchildren. She is also survived by numerous grandnieces and grandnephews and their families. Her only surviving nephew is Franklin Grunstead of Sparks, Nevada.
Researched and written by her son Bob Broili. Posted May 2014
Sources of Information:
Obituary notice, Reno Evening Gazette-Journal. August 14, 2011.
Melton, Rollan, "Foreward", Easy Cookin' in Nevada & Tales of the Sagebrush State, Reno, Nevada: The Anthony Press, 1984.