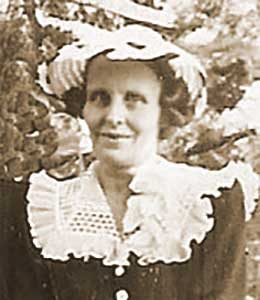 VIOLA ANNIE WEST GOLDSWORTHY

The information below has been compiled from a variety of sources. If the reader has access to information that can be documented and that will correct or add to this woman's biographical information, please contact the Nevada Women's History Project.
At A Glance:
Born: September 12, 1896,
Yerington, Mason Valley, Nevada
Died: May 17, 1975, Yerington , Nevada
Maiden Name: Viola Annie West
Race/Nationality/Ethnic Background: Caucasasian (Danish)
Married: James George Goldsworthy, October 6, 1914, at Yerington.
Primary City and County of Residence and Work:
Yerington, Lyon County ; Reno , Washoe County
Major Fields of Work: PTA, Girl Scouts, Eastern Star, and Church volunteer
Other Role Identities: Wife, Mother, Organizer of education and children
Biography
Viola's early childhood was happily spent on the family farm in Mason Valley . She was the youngest of five children. Perhaps that childhood gave her a sense of her own ability to do and care for herself. She needed no one to saddle her horse or to help with farm chores. She told of her pride in being competent enough to drive derrick during haying. She showed her children on many occasions how to milk a cow, a skill none of them ever learned.
With her friends in high school she learned to ride a motorcycle and was in all probability one of the first to learn to drive a car. She could change a tire when to do so required the patching of the tire tube and the pumping up of the tire with a hand pump. One day on her way to town from the mine, she and the children were caught in a flash flood caused by one of Nevada 's famous cloud bursts. To add to the problem, the car was acting up. Viola siphoned gas from the tank to the carburetor, forded the flood and drove into town. She had no patience with helpless women, a trait for which she could never be accused.
There were many moves in her life, for husband James Goldsworthy was an engineer with mining being his first choice in the engineering field. The family lived at Pine Grove, Blue Stone Mine, Silver City , Ramsey, and Como when the children were young. The move to Reno was to ensure a college education for all the offspring. Soon Viola would be involved in community work.
She took an active role in Parent Teachers Association serving as Washoe County president during her work with the organization. Always interested in the welfare of children, she and a good friend started a hot lunch program at Orvis Ring School in Reno . Viola, in her PTA work was cognizant of the need for good nutrition, not only for her own family, but especially for all children.
Her interest in children and their welfare soon got her into the Girl Scout programs in Washoe County . She would become Washoe County chairwoman of the organization, and after leaving Reno , she would start the Girl Scout program where ever she could. In Reno , Lovelock, Mina, and in any community where she saw a need, she would get the program started.
Church for Viola was not just a place to go on a Sunday, but was rather a place to do God's work. She knew how to organize a fundraising church dinner; she knew how to teach Sunday school, and she could really get the rummage sales going. Church was a community needing volunteers. Again, no matter where she and her husband lived after the children were grown and on their own, Viola found a spot in church where she could do her part.
When she found herself somewhat isolated at a remote mining area where her husband was working, she took up painting at the suggestion of one of the men working at the mine. She liked the idea and with a beginning set of oils, she painted pictures now cherished by her family.
Ill health curbed much of Viola's energy, but few knew how often she was ill. She took the conditions that robbed her of vitality with courage and almost dared such an inconvenience to slow her down. As age and ill health took a toll, she maintained her sewing circle, her church work, and her ever caring of those less fortunate than she. A woman to be admired in any era, Viola West Goldsworthy was the epitome of the caring independent woman of her years long before the feminine movement. She left a legacy, not only to her children, but to all whose lives she touched. She was truly a loved, revered Nevada woman.
Biographical sketch by Eleanor Goldsworthy Gottschalk
Sources of Information:
Personal Interviews by Eleanor Goldsworthy Gottschalk