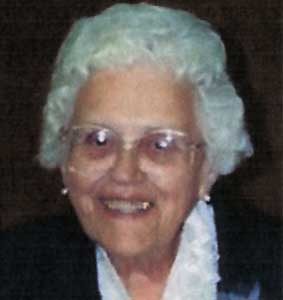 VIRGINIA MOREIRA MOURA

The information below has been compiled from a variety of sources. If the reader has access to information that can be documented and that will correct or add to this woman's biographical information, please contact the Nevada Women's History Project.
At A Glance:
Born: June 10, 1910 in Lovelock, Nevada
Died: March 30, 1994 in Lovelock, Nevada
Maiden Name: Virginia Moreira
Race/Nationality/Ethnic Background: Portuguese
Married: Manuel Moura on November 9, 1942 in Reno, Nevada
Children: Thomas
Primary City and County of Residence and Work:
Lovelock, Pershing County, Nevada
Major Fields of Work: Housewife, Mother, Ranch partner, Deputy County Recorder, Secretary/bookkeeper
Other Role Identities: Member of St. John's Catholic Church, St. Agnes Altar Society, I.D.E.S. Portuguese Society of Lovelock, Lovelock Eaglettes, Pershing County Farm Bureau, Fairview Homemakers, Soroptomist International.
Biography
Virginia Moreira Moura was born June 10, 1910 to Manuel and Maria Moreira. She was a native and lifelong resident of Lovelock, Nevada . Her life began on the Taylor "Lower Ranch" in Upper Valley . Her father was employed as a foreman at the John C. Taylor Lower ranches. Virginia 's parents immigrated to the United States in the late 1800's from the island of Santa Maria in the Azores.
In 1916, her family purchased a ranch in upper Valley, as it would be the perfect place to raise a daughter, just down the road from the county schoolhouse. As a youngster she did the chores of any farm girl, such as milking the cows, riding horses, and driving wagons. Milking the cows was not a pleasant experience for Virginia . During the milking process, she would have to press her head against the cow, which would in turn get her hair dirty. While she quickly learned to cover her hair, she still got quite disgusted each time she was sent to milk the cows!
Even though she spent a great deal of time around them, Virginia never cared much for horses. Despite this fact, her first job, at age fourteen, was to guide a horse-drawn cart used to stack hay. Virginia received $30 for the season's work. Aside from the ranch work, Virginia also had duties in the home where she learned how to cook and sew. Her grandchildren can still remember the lingering smell of Portuguese Sweet Bread filling her home, as well as memories of her crocheting her beautiful afghans.
Virginia received her elementary education through the eighth grade within walking distance of her home at Fairview School on Loorz Road . Her early years in school were a challenge, as she not only had to learn the academic subjects, but also master the English language at the same time. She was quite proud of how hard she worked to accomplish the goal of learning English. After graduating from Pershing County High School in 1930, Virginia worked at the local Pershing County Bank, formerly the Lovelock Mercantile Bank, operating the large Burroughs adding machine, which at the time was considered state-of-the-art. From there she worked for Bell Telephone and the Golden Rule store (owned by J.C. Penney). Her skills led her to the Courthouse where she worked for ten years as Deputy County Recorder. Virginia joined the Pershing County Water District as clerk/bookkeeper for fourteen years until she resigned to become the part-time treasurer, where she served twenty five more years until July of 1992. In an article following her retirement in the Lovelock Review Miner, Virginia was described by Myron Goldsworthy, a former secretary/manager of the Pershing County Water District, as the woman who "broke in" the secretary/managers for the Water District. Her years spanned from the first manager, Robert Leighton, to the current and fifth manager, Bennie Hodges.
Virginia 's job with the Water District was always close to her heart because of the importance she held for water – a precious commodity for the valley. She remembered the days before Rye Patch Reservoir was constructed, and "Water Wars" were common. Virginia often recalled memories of how men would sit by an irrigation channel with shotguns at night to protect their water and prevent others from manipulating the water flow. She believed that Rye Patch Dam was the answer to the serious problems that faced the Lovelock Valley . She was quick to say that she appreciated the dam and never took it for granted. Virginia experienced three separate droughts during her tenure with the district and could frequently be heard calling water "the life blood of the Lovelock Valley."
Virginia married Manuel Moura on November 9, 1942 . Like her parents, Manuel also immigrated from the Azores Islands . Manuel, from a family of eleven, came to America at age eighteen from the island of Santa Maria . Together they had one son, Thomas Anthony Moura. She and Manuel farmed in the Upper Valley . Their farming operation began in 1945 by taking over her family farm, where they raised alfalfa hay and grain, as well as owned over 150 head of registered and commercial Herefords.
Virginia had a deep love for her family and enjoyed their activities. She was always supportive and involved in her son's and three grandchildren's church, school, and 4-H activities. While she was an only child, Manuel's family gave her the joy of a large family and the opportunities to travel to enjoy their many nieces and nephews. She loved to travel to visit family in Brazil , the Azores Islands , Canada , the East Coast, and Bermuda.
Her years in the public sector gave her numerous opportunities to meet many people and make lifelong friends. Her recollections of these days included humorous events, as well as events that influenced and impacted the growth and history of Pershing County . Virginia 's views and thoughts were respected by all people who engaged her in conversation.
Virginia was involved in many community organizations. She was a member of Saint John the Baptist Church , where she was an active member of the Saint Agnes Altar Society for over sixty years. She was a founding member of the Lovelock Soroptimists Club, and was active in the Lovelock Eaglettes, Pershing County Farm Bureau, the Portuguese I.D.E.S., and the United Portuguese of California. Her hard work and love of her Portuguese heritage helped preserve the Portuguese traditions celebrated during the Annual Festa in Lovelock. She took great pride in making the traditional Saint Anthony's bread year after year. Virginia is one of the reasons the Festa still continues annually after almost 75 years.
Virginia 's life was committed to her family and her church. Her values and goals were always demonstrated by her example as a loving wife, mother, grandmother, aunt, neighbor, and friend.
Researched and written by her granddaughter, Amy Moura Blanchard. October 2006.
Sources of Information:
Lovelock Review Miner, July 1992. Gwen Bough Carter article on Virginia Moura.