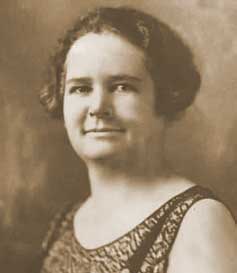 EDNA IDELLE (SINNAMON) BALZAR (ab.1881 – 1943)
Governor Frederick B. Balzar (1927 – 1934) Died in office 3/21/34
The information below has been compiled from a variety of sources. If the reader has access to information that can be documented and that will correct or add to this woman's biographical information, please contact the Nevada Women's History Project.
At A Glance:
Born: 1882 (Bridgeport CA)
Died: 5 Jan 1943 (Reno NV)
Burial: Reno, NV
Maiden Name: Edna Idelle "Idelle" Sinnamon
Race/Nationality/Ethnic Background: Caucasian
Married: 5 Nov 1907 (Independence CA)
Children: Phylis
Primary City and County of Residence and Work:
Carson City, Reno NV
Major Fields of Work: First Lady
Other Role Identities: Wife, Mother
Obituary: Nevada State Journal   6 Jan 1943 p3:5
IDELLE BALZAR STRICKEN HERE
Mrs. Idelle S. Balzar, well known Nevada resident, wife of the late Fred B. Balzar, former governor, died suddenly yesterday morning at the home of her daughter Mrs. George Vargas, following a heart attack. Death came in her sleep.
Mrs. Balzar was born at Bridgeport, Calif., and met the late governor when he was a conductor on the old Carson & Colorado railroad. They married at Independence, Calif., March 5, 1917.
Balzar served as governor of Nevada from 1927 until his death in April 1934, and prior to that as sheriff and member of the legislature.
Surviving are a daughter, Mrs. Phyllis Balzar Vargas; two grandchildren, Dell and George L. Vargas, Jr., and two sisters, Mrs. Lottie Twelves of Salt Lake City, and Mrs. Pearl Kirkwood of Bridgeport, Calif.
Funeral arrangements will be announced by the Ross-Burke Company.