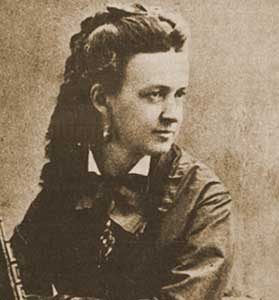 ELIZABETH (FALL) KINKEAD (1837 – 1907)
Governor John H. Kinkead (1879 – 1882)

The information below has been compiled from a variety of sources. If the reader has access to information that can be documented and that will correct or add to this woman's biographical information, please contact the Nevada Women's History Project.
At A Glance:
Born: 1 Apr 1837 (Lancaster, OH)
Died: 26 Aug 1907 (Carson City, NV)
Burial: Carson City, NV
Maiden Name: Elizabeth "Lizzie" Fall
Race/Nationality/Ethnic Background: Caucasian
Married: 1 Jan. 1856 (Marysville, CA)
Children: Adopted son Kahtz
Primary City and County of Residence and Work:
Virginia City NV, Sitka AK, Carson City, NV
Major Fields of Work: First Lady
Other Role Identities: Wife, Mother
Biography
Elizabeth Fall, or "Lizzie" as she was called since childhood, was born on April 27, 1837, the daughter of John C. Fall and Sarah Connell Fall, who were married in 1835 in Lancaster, Ohio. Her mother died in 1844, and Lizzie lived with her grandparents in Lancaster for a few years while her father made a career in mercantile, becoming a prominent pioneer and well-to-do owner of a store in Marysville, Calif. John Fall married Jennie Creed from Lancaster in 1853, and later she and Lizzie moved to Marysville.
Lizzie probably enjoyed the advantages of living in a prosperous, lively town of about 10,000 people in the days after the California Gold Rush of 1849.
She became interested in John Henry Kinkead, a young man 11 years older than she, who worked in her father's store. She possibly had known him as a boy in Lancaster, where he had attended high school and begun his career at 18 as a clerk in a dry goods store. Certainly their families would have been acquainted.
Kinkaid, born December 10, 1826, in Smithfield, Pennsylvania, already had experience in the world of mercantile, having traveled and worked in St. Louis, Salt Lake City, Sacramento, Calif., and Nevada before coming to Marysville. Perhaps she glimpsed the new life of travel and importance she would have as his wife.
At age 19, she married John Kinkead on Jan. 1, 1856 in Marysville with her family's blessing and the couple moved in 1857 to open a Fall mercantile store in the smaller but growing town of Carson City, the brand-new territorial capitol of Nevada. John quickly rose to important positions, serving in both constitutional conventions in 1863 and 1864 and named territorial treasurer. Lizzie probably took on a social role to equal her husband's prominence. According to a notice of her death in the Nevada State Journal, "her home during the Comstock days (was) the gathering place of all the social followers on the Comstock."
In summer 1867, after Nevada achieved statehood in 1864, the Kinkeads moved to San Francisco for new business opportunities. While there, John was named postmaster of Sitka, Alaska. After a short visit in 1866, Lizzie moved to Sitka with John on Jan. 18, 1868, and is credited with starting the first temperance society in Alaska. She also started a Sunday school in the old Lutheran Church. The Kinkeads were among the Sitkans who accompanied former Secretary of State William H. Seward and his party to the Chilkat River during his Alaska visit. The Kinkeads lived in the northern territory until Jan. 21, 1873.
They returned to Nevada with their adopted 12-year-old native Alaskan son, Kahtz, who died in Unionville, Nevada, of consumption on Sept. 18, 1873. They had no other children.
John moved to Virginia City to start a store in March 1875, and Lizzie followed him in April. Their house on the Comstock was burned, probably in the Great Fire of Oct. 26 that destroyed most of the city, and the Kinkeads moved back to Unionville in November 1875.
John continued to be active in politics but was considered a dark horse in the gubernatorial election of 1878. However, he was elected governor of Nevada for four years, and the Kinkeads returned to Carson City, where Lizzie was First Lady of Nevada until January 1882. In February 1882, she hosted her sister Sallie Fall's wedding to U.S. Navy Commander Rogers in the Kinkead residence.
On July 4, 1884, John Kinkead was appointed governor of the district of Alaska. Lizzie sailed from San Francisco on the "Queen of the Pacific" on Sept. 1 on a long voyage with many stops at ports along the way. She described the voyage in detail in a letter to the Carson Appeal, including church services in Victoria, Canada, the history of Juneau, and appreciation of the magnificent scenery of forests and glaciers. As First Lady of Alaska, she spent only one full day in Sitka, which she described as "a straggling, dilapidated town" and then returned to Carson City. Kinkead resigned the governorship on May 9, 1885, and rejoined his wife in Carson City.
The couple lived in Carson City for the rest of their lives. In 1887, Lizzie bought the Crabb House, at the northeast corner of W. Robinson and North Division. John Kinkead died on August 15, 1904. She lived until Aug. 26, 1907, at age 71 in Carson City. Both Kinkeads are buried in Lone Mountain Cemetery, Carson City.
Written by Janice Hoke. Researched by Patti Bernard.
Bibliography:
"Death of John C. Fall." Appeal Democrat [Marysville, CA] 12 Dec 1894:1. Print.
"A Trip To Alaska: How Our Nevada Voyagers Are Enjoying Themselves", Nevada Appeal [Carson City]September 30, 1884, p. 3.
"John H. Kinkead." The National Cyclopedia of American Biography, vol. XI. New York, New York: James T. White & Company, 1901. 201. Print.
"A Fine Old Home." Appeal Democrat [Marysville CA] 27 Mar 1903:1. Print.
"Pioneer Woman Of Marysville Is Dead." Appeal Democrat [Marysville CA] 29 Aug. 1907:1. Print.
"Mrs. Kinkead Dies At Carson." Nevada State Journal 27 [Reno] Aug. 1907:3. Print.
"A Pioneer Woman of Nevada." Daily Nevada State Journal [Reno] 27 Aug 1907:3. Print.
"Will of Mrs. Elizabeth Kinkead Stolen While She Lay Dying." Appeal Democrat [Marysville CA] 14 Sept. 1907:1, 4. Print
DeArmond, Bob. "Gov. Kinkead Took Long Way to Sitka." Daily Sitka Sentinel [Sitka, AK]4 Oct. 1987, sec. From Sitka's Past: 6. Print.
DeArmond, Bob. "Postmaster First on Sitka's Scene." Daily Sitka Sentinel [Sitka, AK]11 Oct. 1985, sec. From Sitka's Past: 7. Print.
"Kinkead Attacked."Daily Sitka Sentinel [Sitka, AK] 31 Oct. 1985, sec. Letters to the Editor: 2. Print.
DeArmond, Bob. "Gun Salute Marked Civilian Rule." Daily Sitka Sentinel [Sitka, AK] 13 Oct. 1987, sec. From Sitka's Past: 3. Print.
DeArmond, Bob. "Some Glimpses of 19th Century Sitka." Daily Sitka Sentinel [Sitka, AK] 19 Nov. 2004, sec. From Sitka's Past: 5. Print.
Myles, Myrtle Tate. "John Henry Kinkead." Nevada's Governors: From Territorial Days to the Present 1861-1971. Sparks, NV: Western Printing & Publishing Company, 1972. 26-29. Print.
Sawyer, Bette, Nevada's 100 Years of First Ladies." Nevada Centennial Magazine. 1964: p. 125. Print.
Nylen, Robert A., and Guy Louis Rocha. "Elizabeth (Fall) Kinkead." State of Nevada: The Historical Governor's Mansion. Carson City, Nevada: Dema Guinn, the Nevada Commission on Tourism, Nevada Magazine, and the Nevada Department of Cultural Affairs, 2005. 24. Print.