The information below has been compiled from a variety of sources. If the reader has access to information that can be documented and that will correct or add to this woman's biographical information, please contact the Nevada Women's History Project.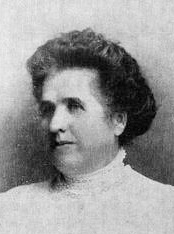 Elizabeth Weyburn Jones-Sifford (1861-1925)
Governor John Edward Jones (1895-1896) died in office 1896
At A Glance:
Born: February 1861, Wales, Great Britain
Died: February 11, 1925, Lassen Co., California
Maiden Name: Weyburn
Race: Caucasian
Married: 1. John E. Jones, 2. William H. Sifford
Children: daughter Edith, son Parvin
Primary city and county of residence and work:
Carson City, Stillwater (Lyon County), Honey Lake,
Calif.
Major fields of work: First Lady, 1895-1896
Other role identities: wife, mother
Biography
First Lady endured deaths of her husband, daughter and stepson
Elizabeth Weyburn, Nevada's second and last foreign-born First Lady, was born in February 1861 in Wales, Great Britain, and immigrated to America in 1893. Little is known of her early life, but at age 9, Elizabeth, was living in Shenandoah, Schuylkill Co., Pennsylvania with her parents, William and Anna Howells Weyburn, and three siblings in 1870. Her father was a farmer.
The 1880 Nevada, Eureka Co., Eureka census shows "Lizzie," whose occupation was listed as a cook, living in a boarding house in the town of Eureka. That is where she met and married John E. Jones, a miner living in nearby Ruby Hill, on November 25, 1880. During the ensuing years the couple had two children, Edith (1881-1900) and Parvin (1884-1959).
In 1895 Jones was elected to the office of Governor of Nevada, and their residence was in Carson City. Governor Jones, while still in office, died of cancer in 1896, but Elizabeth continued to live in Carson through the early 1900s. In 1896 Elizabeth was appointed Assistant Librarian by Nevada Secretary of State Eugene Howell. Her daughter, Edith, a most precocious girl, was appointed a State Library Clerk at the age of 16 before she even finished her basic education. She died of heart disease in 1900, just days after graduating from Carson City High School, and before entering Mills College in San Francisco.
Elizabeth then married a widower, William Sifford, a well-to-do farmer living in the community of Stillwater in Churchill County near Fallon, on September 10, 1902. The couple also purchased a residence in Monterey, California about 1905, as William continued to promote a sugar beet connection between the two locations. William's 15-year-old son, Daryl, drowned in an irrigation ditch in 1906 at Stillwater.
It turned out that Churchill County was ill-suited for raising and processing sugar beets on a large scale. So, the couple finally moved to Honey Lake in Lassen County, California, where Elizabeth died on February 11, 1925.
Elizabeth's body was brought back to Carson City's Lone Mountain Cemetery where her two children and first husband are interred.
Researched and written by Patti Bernard. Posted May 2022
Sources of Information:
Ancestry.com. Year: 1870; Census Place: Shenandoah, Schuylkill, Pennsylvania; Roll: M593_1450; Page: 584B. [Elizabeth Weyburn]
Ibid., Year: 1880; Census Place: Eureka, Eureka, Nevada; Roll: 758; Page: 174D; Enumeration District: 016880. [Lizzie Weyburn]
Ibid., Year: 1880; Census Place: South Ruby Hill, Eureka, Nevada; Roll: 758; Page: 160C; Enumeration District: 015. [John Jones]
Ibid., Year: 1900; Census Place: Carson City, Ormsby, Nevada; Page: 17; Enumeration District: 0036; FHL microfilm: 12409431900. [Elizabeth Jones]
Ibid., Year: 1910; Census Place: Stillwater, Churchill, Nevada; Roll: T624_858; Page: 10B; Enumeration District: 0003; FHL microfilm: 1374871. [W.H. Sifford]
Ibid., Year: 1920; Census Place: Honey Lake, Lassen, California; Roll: T625_101; Page: 3A; Enumeration District: 29. [Elizabeth Sifford]