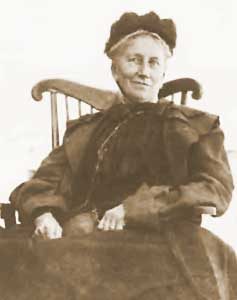 ELLEN G. ODDIE (1841 – 1914)
(*Mother, served as Official Hostess)
Governor Tasker L. Oddie (1911 – 1914)

The information below has been compiled from a variety of sources. If the reader has access to information that can be documented and that will correct or add to this woman's biographical information, please contact the Nevada Women's History Project.
At A Glance:
Born: June 1841 (Prince George County MD)
Died: 17 Oct 1914 (Carson City NV)
Burial: Carson City, NV
Maiden Name: Unknown
Race/Nationality/Ethnic Background: Caucasian
Married: ab 1866
Children: Grace, Tasker, Sarah, Clarence, Anna
Primary City and County of Residence and Work:
Carson City
Major Fields of Work: First Lady
Other Role Identities: Wife, Mother
Obituary: Carson City News 18 April 1914:1
Mrs. Oddie Died At the Mansion Last Night
Passed Away at 10:35 Surrounded by All Members of Her Family
Last night at 10:30 the spirit of Mrs. Ellen Oddie winged its flight to that God which gave it life. Throughout the night which preceded and all through the day her sons and daughters gathered by her bedside and watched the ebbing life as it grew weaker and weaker. Everything that medical science could do had been tried but the time had come and the old lady sank into that sleep which knows no awakening. She had lived her three score years and ten and three when the fatal malady attacked her, she had not the strength to stand an operation nor the strength to combat the foe.
Mrs. Ellen Oddie was a native of the state of New York and came to Nevada to make her home with her son, Governor Oddie, about fourteen years ago. When Governor Oddie was elected to the high position, Mrs. Oddie came to this city and became the mistress of the Mansion, where since that time she has lived a happy life having her children gathered around her at frequent times and happy in the honors which her son had gained.
While a resident of this city Mrs. Oddie won a large circle of friends and there are none today but who sorrow that she has been called from their midst. The deceased was a member of the Episcopal Church and on Easter Sunday participated in the Communion services, and from this church her body will be taken to rest in the Masonic cemetery Sunday afternoon at 3:30.
Carson City News 18 April 1914:1
Bibliography:
"Mrs. Oddie Died At The Mansion Last Night." Carson City News 18 April 1914:1. Print.
"Mother Of Governor Is Called By Death." Clark County Review [Las Vegas] 25 Apr 1914:1. Print.
"Mother Of Governor Is Called By Death." Clark County Review [Las Vegas] 25 Apr 1914:1. Print.
Sawyer, Bette. "Nevada's 100 Years of First Ladies." Nevada Centennial Magazine. 1964: p. 126. Print.
Nylen, Robert A., and Guy Louis Rocha. "Ellen G. Oddie." State of Nevada: The Historical Governor's Mansion. Carson City, Nevada: Dema Guinn, the Nevada Commission on Tourism, Nevada Magazine, and the Nevada Department of Cultural affairs. 2005. 33. Print.
Harpster, Jack. "A Down and Out Prospector."100 Years in the Nevada Governor's Mansion. Las Vegas, NV: Stephens Press, LLC. 2009. 47-51. Print.