The information below has been compiled from a variety of sources. If the reader has access to information that can be documented and that will correct or add to this woman's biographical information, please contact the Nevada Women's History Project.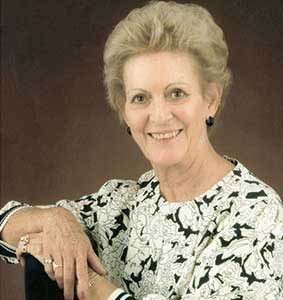 JACKALYN (ROSS) LAXALT (1927 – 2004)
*4th First Lady born in Nevada (Yerington)
Governor Paul D. Laxalt (1967 – 1970)

At A Glance:
Born: 31 Jan 1927, Yerington NV
Died: July 17, 2004, Reno NV
Burial: Reno, NV
Maiden Name: Jackalyn Margaret "Jackie" Ross
Race/Nationality/Ethnic Background: Scotch-Irish
Married: Paul Dominique Laxalt, 1946. Divorced in 1972
Children: Gail Johnson, Sheila Lokan,
John Paul Laxalt, Michelle Laxalt,
Dr. Kevin Marie Laxalt,
Kathleen "Neena" Laxalt
Primary City and County of Residence and Work:
Carson City, Nev., Scottsdale, Ariz., Reno, Nev.
Major Fields of Work: First Lady, drug and alcoholism counselor
Other Role Identities: Wife, Mother
Obituary: Reno Gazette-Journal (Reno, Nevada) p. 4C:5
Biography
Nevada native First Lady dedicated life to large family, and to substance abuse counseling
Jackie Laxalt was born in Yerington, Nev., and raised in Carson City, Nev., to John R. Ross, a prominent lawyer and later a federal judge, and his wife, Margaret Burns Ross. She was the eldest of two children. In her younger years, she developed her talent as an accomplished pianist.
Jackie graduated from Carson High School in 1944 and went on to attend the University of Nevada, Reno, where she hoped to become an author of children's books.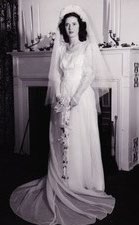 In 1946, Jackie was introduced to Paul Laxalt who had just returned home from serving in the United States Army overseas. Jackie and Paul began dating and married on July 30, 1946. Following their marriage, the couple moved to Santa Clara, California, and then Denver Colorado, where Paul finished up his undergraduate and law degrees respectively. After his graduation in 1950, Jackie and Paul returned to Carson City where he practiced law with Jackie's father. By 1957, the Laxalts were raising their six children
and Paul began his political career as one of the state's most popular elected officials by winning his first statewide race, for lieutenant governor, in 1962, and was then elected governor in 1966.
As the state's first lady from 1966 to 1970, Jackie oversaw the refurbishing and remodeling of the Governor's Mansion. With their six children, the Laxalts were the largest family to occupy the mansion.
With six children, politics, social obligations, time apart from her husband, and the everyday circumstances, life became increasingly stressful for Jackie. Ultimately these stressors, coupled with Jackie's dealing with years of her husband's infidelity, took their toll. On February 4, 1972, the Laxalt marriage ended in divorce.
After her marriage of 25 years ended, she moved to Scottsdale, Ariz., where she began her journey to find herself. In December 1974, Jackie began sobriety treatment to address substance abuse problems. She then spent many years in Arizona and Nevada
counseling others with substance abuse problems.
Jackie returned to her beloved Nevada in early 1991 where she established a successful alcoholism counseling practice. Over the next 13 years, she excelled in dedicating her life to her children and grandchildren. One poignant tradition she started was her own creation of beautiful needlepoint Christmas stockings for every one of them. To this day, every time her family members hang their special holiday stockings, they know that she is right there with them.
Jackie loved the visits from family and friends who traveled to visit her. She never lost her quick wit or sense of humor, traits which endeared many to her spirit.
"Mom loved her children, grandchildren and Nevada, and she was proud of having been Nevada's favorite first lady," said daughter Michelle Laxalt, of Washington, D.C.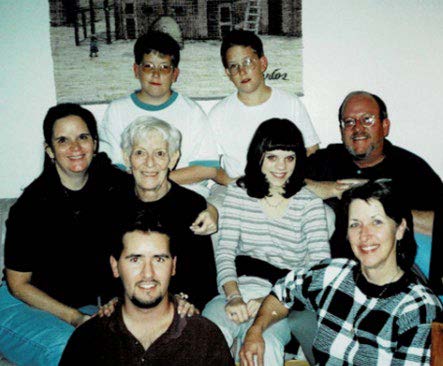 "My mother taught all of her children to be independent, to not roll over and lose if we thought we were right. She taught us to be warm and loving, and gave us our sense of humor," said daughter Neena Laxalt of Reno.
And while Paul Laxalt has often pointed to his Basque heritage, Neena Laxalt added her mother of Irish descent encouraged her children "to be proud that we were Irish."
On July 17, 2004, Jackie Ross Laxalt, age 77, passed away in a Reno hospital where she was being treated for respiratory problems. She is buried in Mountain View Cemetery in Reno, Nev.
Written by Neena Laxalt. Posted September 2022.
Sources of Information
"Elegant Tea Party Honors First Ladies." Las Vegas Review-Journal (Las Vegas, Nevada), 27 Oct. 1999.
"Ex-first lady to help others battle alcoholism." Nevada State Journal (Reno, Nevada), 23 Oct. 1981.
"First Ladies prepare for Centennial." Reno Evening Gazette (Reno, Nevada), 7 Oct. 1964.
"Former first lady fights against alcohol." Nevada State Journal (Reno, Nevada), 15 Oct. 1981.
"Governor's Kids roll call." Reno Gazette-Journal (Reno, Nevada), 2 Nov 1997.
"Governor's Mansion aglow with decorations." Nevada State Journal (Reno, Nevada), 21 Dec. 1969.
Harpster, Jack. "Son of a Basque Sheepherder: Governor Paul Laxalt." 100 Years in the Nevada Governor's Mansion. Las Vegas, NV: Stephens Press, LLC, 2009.152-165.
History of the Governor's Mansion and the Nevada State Capitol. 1991, p. 33.
"In Carson City-Candid glimpses of a new housewife in an old mansion." Nevada State Journal (Reno, Nevada), 8 Jan. 1967.
"Inaugural Ball involves all the Laxalts." Nevada State Journal (Reno, Nevada), 1 Jan. 1967.
"Jackalyn R. Laxalt." Mason Valley News (Yerington, Nevada), 23 July 2004.
"Jackalyn Ross Laxalt, Former First Lady, dies." Nevada Appeal (Carson City, Nevada), July 2004.
Myles, Myrtle Tate. "Paul Dominique Laxalt." Nevada's Governors: From Territorial Days to the Present, 1860-1971. Sparks, NV: Western Printing & Publishing Company, 1972. 130-132.
"Nevada Legislators go to a Basque party." Nevada State Journal (Reno, Nevada), 1 Mar. 1967.
"Nevada's next First Lady." Nevada State Journal (Reno, Nevada), 1 Jan. 1967.
Nylen, Robert A., and Guy Louis Rocha. "Jackalyn (Ross) Laxalt." State of Nevada: The Historical Governor's Mansion. Carson City, Nevada: Dema Guinn, the Nevada Commission on Tourism, Nevada Magazine, and the Nevada Department of Cultural Affairs, 2005.43.
Powers, Lenita. "All the Governor's Wives: Jackie Laxalt." Reno Evening Gazette (Reno, Nevada), 30 Nov. 1981.
"Prominent ladies of ball gowns." Nevada Appeal (Carson City, Nevada), 5 Jan. 1967.
"She sets 'em up." Reno Evening Gazette (Reno, Nevada), 22 April 1966.
"Well known Carson Couple Wed at Afternoon Church Rite." Reno Evening Gazette (Reno, Nevada), 28 June 1946.
"The Wives of State Officials Speak: Some Have Already Fitted into Pattern, Others Seek Place." Reno Evening Gazette (Reno, Nevada), 12 Jan. 1963.