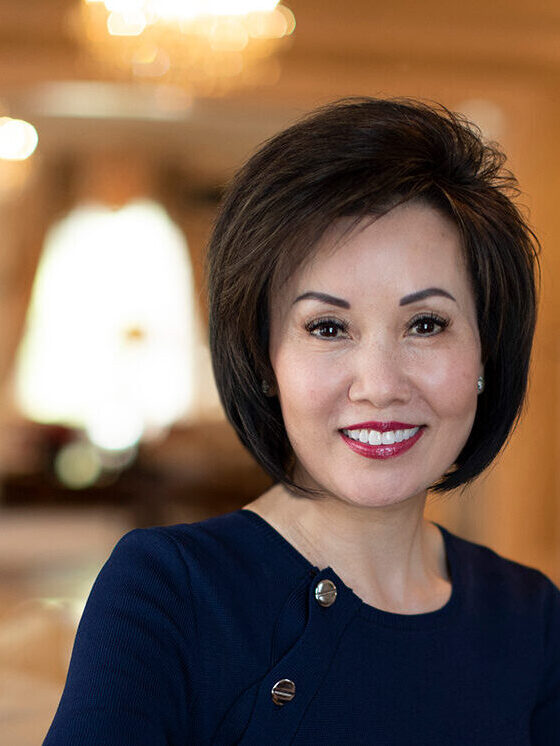 Katherine Won (Ong) Sisolak (1958 -)
1st Chinese American First Lady born in Nevada 
Governor Stephen F. Sisolak (1953 -)
The information below has been compiled from a variety of sources. If the reader has access to information that can be documented and that will correct or add to this woman's biographical information, please contact the Nevada Women's History Project.
At A Glance:
Born: February 19, 1958
Maiden Name: Ong
Race/Nationality/Ethnic Background: Asian/Chinese
Married: December 28, 2018
Children: (stepdaughters) Ashley Sisolak, Carley Sisolak
Primary City and County of Residence and Work: Las Vegas, Nevada
Major Fields of Work: financial consulting
Other Role Identities: Wife, mother
Biography:
Born of immigrant parents in Ely, Nevada on February 19, 1958, and raised in Las Vegas, Kathy Ong Sisolak is the epitome of a Native Nevadan. Kathy and her three brothers were raised in a family where education was deemed an important part of life. Her father was the first Chinese dealer on Fremont Street and her mother, a native of China, had learned English, attended classes in Las Vegas and ultimately gained employment with Clark County.
Kathy attended school in Las Vegas and spent her young years riding bikes, walking to school, horseback riding and "cruising" down Fremont Street. Snow skiing at Mount Charleston and tennis were also a part of her young life and as she got older, she had opportunities to see stage and dinner shows in the casinos. She was able to see Elvis Presley when he was in town. She attended and graduated from Las Vegas schools as well as from the University of Nevada, Las Vegas and received a Bachelor of Science in Business Administration with an emphasis on Finance. She began her career in the Clark County budget office and rose to the position of budget manager responsible for an annual budget of $1.8 billion dollars. In 1991, she and Guy S. Hobbs decided to form a Financial Consultant business, Hobbs, Ong and Associates Inc., a firm with over 35 years of experience in tax policy and administration, financial advisory services, fiscal analysis, debit management, sports and entertainment project support, capital strategies and operations research.
Becoming First Lady of Nevada was something she never dreamed of – ever. She was busy pursuing a career, but things happen! Kathy was living in a neighborhood where Steve Sisolak, Nevada Board of Regents and then Clark County Commissioner was also living. They both wound down after a day's stress at the neighborhood gym, and because they were "regulars" formed a friendship which evolved into a relationship. They dated for five years but in their final year of dating he was running for Governor. Right after the election results, which saw him elected Governor of Nevada, he asked Kathy to marry him. In her wildest dreams, she had never envisioned herself as First Lady of Nevada but a commitment to Steve and his future as Governor meant she would be Nevada's First Lady. They were married on December 28th, 2018, just prior to the inauguration ceremonies.
Kathy has assumed her new position with grace. She quickly adapted to her new responsibilities in addition to being a working First Lady. The Sisolak's endeared themselves to the neighborhood surrounding the Governor's Mansion when they took cookies to their neighbors shortly after moving into the Mansion, as a means of introducing themselves. She runs two households – one in Carson City and one in Las Vegas, Nevada. One of her official platforms is financial literacy for the youth, a subject that will teach young people that learning financial literacy helps individuals gain financial independence in life. Additionally, she has announced a new arts initiative in partnership with the Carson City Department of Arts and Culture and the Governor's Mansion. The walls of the Governor's Mansion will highlight artwork from artists throughout the State of Nevada.
Written by Marcia Bernard. Approved by Katherine Sisolak.