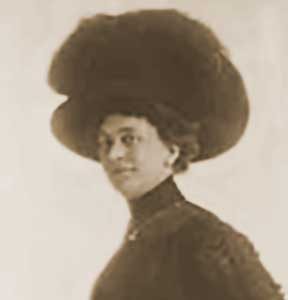 LOUISE (ZADOW) SADLER (1851 – 1923)
*First Foreign Born First Lady
Governor Reinhold Sadler (1896 – 1903)

The information below has been compiled from a variety of sources. If the reader has access to information that can be documented and that will correct or add to this woman's biographical information, please contact the Nevada Women's History Project.
At A Glance:
Born: Nov 1851 (Prussia)
Died: 6 Aug 1923 (Grass Valley, CA)
Burial: Carson City, NV
Maiden Name: Louise Zadow
Race/Nationality/Ethnic Background: Caucasian
Married: 26 May 1874 (Hamilton, NV)
Children: Wihlemina, Wm. Arthur, Bertha, Edgar, Alfred, Clarence
Primary City and County of Residence and Work:
Eureka, NV and Carson City, NV
Major Fields of Work: First Lady
Other Role Identities: Wife, Mother
Obituary: Reno Evening Gazette 6 August 1923:3
GOVERNOR SADLER'S WIDOW DIES IN GRASS VALLEY
Mrs. Louise Sadler, widow of Governor Reinhart Sadler, former Governor of Nevada died at Grass Valley, Cal. this morning following a brief illness. Mrs. Sadler went to Grass Valley recently to visit her sister, and was suddenly stricken. She was seventy-one years of age. The remains will be brought at once to Nevada and interment will take place at Carson City.
Mrs. Sadler formerly lived at Eureka, Nev. where her husband was a prominent figure in business and politics for many years. He was elected lieutenant governor of Nevada in 1895 and succeeded through the death of Jones E. Jones in 1896. He was elected in 1898 serving for four years.
Three sons survive her, Alfred Sadler of Reno, Clarence Sadler of Washington D.C., and Edgar Sadler of Eureka, Nevada. Her daughter Bertha Sadler with whom she made her home for many years, was known to many of the older residents of the state, particularly at Eureka, Carson City, Virginia City and Reno.
Reno Evening Gazette 6 August 1923:3
Bibliography:
"Reinhold Sadler." The National Cyclopedia of American Biography, vol. XI. New York, New York: James S. White & Company, 1901. 202. Print.
"Mrs. Sadler dead." Sparks Tribune 10 Aug. 1923:3. Print.
"Carson City Social Doings: Mrs. Sadler gradually failing…" Reno Evening Gazette 23 April 1923:6. Print.
"Governor Sadler's widow dies in Grass Valley." Reno Evening Gazette 6 Oct. 1923:3. Print.
Myles, Myrtle T.. "Fortune for a Governor: Nevada Governors Part IV." Las Vegas Review Journal 24 May 1964, sec. The Nevadan: 24-25. Print.
Myles, Myrtle Tate. "Reinhold Sadler." Nevada's Governors: From Territorial Days to the Present, 1861-1971. Sparks, NV: Western Printing & Publishing Company, 1972. 62—64. Print.
Sawyer, Bette. "Nevada's 100 Years of First Ladies." Nevada Centennial Magazine. 1964: p. 126. Print.
Nylen, Robert A., and Guy Louis Rocha. "Louise (Zadow) Sadler." State of Nevada: The Historical Governor's Mansion. Carson City, Nevada: Dema Guinn, the Nevada Commission on Tourism, Nevada Magazine, and the Nevada Department of Cultural Affairs, 2005: 30. Print.