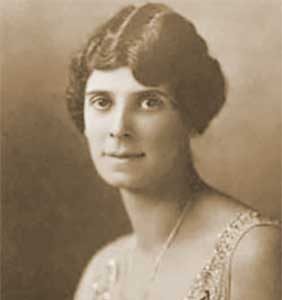 MARIANNE (WILLIAMSON) GRISWOLD (1892 – 1965)
Governor Morley I. Griswold (3/31/1934 – 12/31/1934)
He completed term of Gov. Fred Balzar (deceased)

The information below has been compiled from a variety of sources. If the reader has access to information that can be documented and that will correct or add to this woman's biographical information, please contact the Nevada Women's History Project.
At A Glance:
Born: July 1892 (Duluth MN)
Died: 5 Apr 1965 (Reno NV)
Burial: Elko, NV
Maiden Name: Marianne Williamson
Race/Nationality/Ethnic Background: Caucasian
Married: 4 Aug 1920 (San Diego)
Children: Morley W., Mary Louise
Primary City and County of Residence and Work:
Carson City NV, Reno, NV
Major Fields of Work: First Lady, Homemaker
Other Role Identities: Wife, Mother
Biography
Like many other Nevadans, our 16th First Lady, Marianne Williamson Griswold, was a transplant who adapted successfully to the varied and challenging environments of our state.
Marianne was born on July 25, 1892, in Duluth, Minnesota, to Samuel Stanhope Williamson and Mary Berry Williamson.  She and her sister, Louise Berry Williamson, were raised in Duluth. Her father-in-law, Chauncey Griswold, called her "Marianne Duluth."  She graduated with a degree in library science from the University of Michigan, where she met her future husband, Morley, who earned a bachelor of arts and a law degree there. 
Isaac Morley Griswold was one of five children born to a longtime Lamoille Valley, Nevada, family who owned Griswold Land and Livestock, a sheep and cattle business.  First elected lieutenant governor of Nevada, he became acting governor upon the death of Governor Frederick  Balzar in 1934.
They were married on Coronado Island in San Diego, California, in 1920. According to the couple's son, Morley Williamson "Bill" Griswold of Reno, many Elko families made a habit of escaping the harsh winters in the livestock business in Eastern Nevada to San Diego.
The newlyweds spent their honeymoon, according to Bill's wife Evelyn, camping with Bill's uncle and aunt at Yellowstone National Park, one in a series of adventures in the rural West for Marianne.
"I can't imagine what a shock it was to her family that she had come out to the Wild West," her son said. 
The couple settled in Elko, where Morley Griswold had a law practice, Henderson and Griswold, and had two children, Morley Williamson and Mary Louise. 
She and the children would sometimes make the long train voyage to spend the summer in Washington, D.C., where her parents had moved after she had married.  "Mother handled it very well, taking responsibility for the two kids," on the trip, Bill said.  "In those days you didn't have a telephone, but she was very organized."
Her son remembers that his mother employed a Native American woman in Elko to help with the children.  But the woman had a "drinking problem," and Marianne often picked her up at the local jail in the morning with permission from the sheriff and delivered her back at night.
"Mother was an amazing person to adapt to her circumstances," son Bill said.
Morley Griswold entered politics on the Republican ticket for lieutenant governor when Frederick Balzar, considered a dark horse, won the 1926 election as Nevada governor.   As lieutenant governor, Griswold traveled back and forth from Elko to Reno and Carson City frequently, but Marianne and the two children remained in Elko until Governor Balzar became seriously ill.  The family moved to Reno in 1932 to a house on Nixon Avenue.  Then they bought a partially finished house on La Rue Avenue.
In Reno, Marianne developed an active social life as a member of PEO Sisterhood, the Twentieth Century Club, and Eastern Star. She played bridge and other social card games.  "She was a gracious hostess," son Bill said, housing and entertaining her husband's friends and family from Elko when they came to Reno.
"We had a box seat at the [Reno] rodeo," he said.  Dad would invite friends from Oregon to stay at the house and go to the rodeo." While Marianne did not accompany the group to the event, she would provide dinner every night.  "She saw that their needs were taken care of," Bill said.
"She made lunch and put in paper bags for my sister and me," and the children would walk to Mt. Rose Elementary School.  "She saw that we had clean clothes and were properly dressed, properly attired."
As a boy, Bill liked to be outdoors, he said.  "I ran a trap line and caught muskrats. She saw to it that I had bait for the traps.  The garage was full of pelts."  He also caught salamanders. One night, he had filled the kitchen sink with salamanders.  When the family got up in the morning, "there was only one left in the sink and the rest were all over the kitchen.  There were salamanders everywhere."  His mother, however, was unflappable.  "She handled it just fine," he said. "There was only one thing that scared her – mice."
When Griswold became acting governor in March 1934, the family moved into the Governor's Mansion in Carson City.  "She wasn't thrilled by it," her son remembers.  But he heard from many people that "she was evidently a very elegant First Lady." 
In his book, "100 years in the Nevada Governor's Mansion," author Jack Harpster references a Carson City Daily Appeal article about an informal open house for residents of Ormsby and Douglas counties:  " 'A steady stream of callers visited the mansion, and a platoon of local ladies was drafted to serve coffee to the guests in one-hour shifts.  Governor and Mrs. Griswold and their daughter Mary Louise showed all the visitors through the mansion."
Governor Griswold ran for the governorship in 1934 but was not elected.    The family moved back into their home in Reno and Griswold continued to practice law at the firm of Griswold, Reinhart and Vargas.  The couple kept their ties with state and national Republican leaders and Nevada First Ladies.
"Anything [social event] Mother ever had, she often invited all the First Ladies," son Bill said.  "She was not creative, but she was a great hostess and [she] was in charge of the household and family all the way. "  For example, she organized a quail dinner for ladies at the Twentieth Century Club, serving quail caught by her husband and son.
The whole family liked to go hunting and fishing in Oregon, which Marianne did not participate in, although she would entertain herself well.  He remembers that she liked to can fruit, for example.
Former governor Griswold died in Reno in 1951.  Marianne filled her widowed years with family and social events as well as weekly luncheons with her daughter-in-law Evelyn. 
"In the olden days we went downtown for lunch and shopped around a little bit," Evelyn Griswold said. "We talked on the phone every morning.  She would come for Christmas and Thanksgiving."
"She lived on her own schedule and in her own style.  She was very proud and very reserved," Evelyn remembers.  She had an independent mind, her son said, and "occasionally may have voted for Democrats."
 
"The night she died, we had been an hour and a half on the phone," remembers Evelyn.  The family had hired a female attendant to stay with her, but Marianne only wanted her to stay two or three days per week.  "She was so independent that she didn't want anybody there."
The next morning, April 5, 1965, her neighbors noticed that her bedroom shade, which she routinely raised every morning, was still closed.  Marianne had died of a heart attack.  She was buried in Elko.
"She was First Lady of whatever she was involved in," Bill said.  "She had a lot of style."
Researched and written by Janice Hoke. Posted to NWHP Web site September 2015
Bibliography:
"Depression, WWII Governors."  Las Vegas Review Journal 7 June 1964. sec. The Nevadan: 24-25. Print.
"Mrs. M. Griswold." Reno Evening Gazette 5 Apr. 1965:10. Print.
"Widow of Ex-governor Marianne Griswold Dead." Nevada State Journal [Reno] 6 April 1965, sec. Deaths: 6. Print.
"Mrs. Griswold Former Resident Dies Monday." Elko Daily Free Press 6 April 1965:1. Print.
"Griswold." Reno Evening Gazette 6 April 1964, sec. Death Notices: 16. Print.
Myles, Myrtle Tate. "Morley Isaac Griswold." Nevada's Governors: From Territorial Days to the Present 1861-1971 . Sparks, NV: Western Printing & Publishing Company, 1972. 99-100. Print.
Sawyer, Bette. "Nevada's 100 Years of First Ladies." Nevada Centennial Magazine. 1964: p. 128. Print.
"Governor's Kids roll call." Reno Gazette Journal 2 Nov. 1997, sec. B:2. Print.
Nylen, Robert A., and Guy Louis Rocha. "Marianne (Williamson) Griswold." State of Nevada-the Historical Governor's Mansion. Carson City, Nevada: Dema Guinn, the Nevada Commission on tourism, Nevada Magazine, and the Nevada Department of Cultural Affairs, 2005. 37. Print.
Harpster, Jack. The Short-Term Governor: Governor Morley Griswold." 100 Years in the Nevada Governor's Mansion. Las Vegas, NV: Stephens Press, LLC, 2009. 88-92. Print.
Griswold, Morley "Mother, Marianne Williamson Griswold." Personal interview. 6 June 2015.