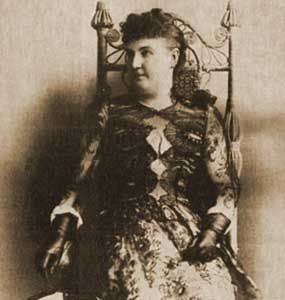 MARY FRANCES (HOPKINS) COLCORD (1847 – 1923)
Governor Roswell K. Colcord (1891 – 1894)
The information below has been compiled from a variety of sources. If the reader has access to information that can be documented and that will correct or add to this woman's biographical information, please contact the Nevada Women's History Project.
At A Glance:
Born: 13 Sept 1847 (Lewiston IL)
Died: 23 Dec 1923
Burial: Carson City NV
Maiden Name: Mary Frances Hopkins
Race/Nationality/Ethnic Background: Caucasian
Married: 28 Apr 1868 (Virginia City NV)
Children: Stella, Harry, Ethel
Primary City and County of Residence and Work:
Carson City NV
Major Fields of Work: First Lady
Other Role Identities: Wife, Mother
Obituary: Sparks Tribune 26 December 1923:1
MRS. COLCORD'S FUNERAL AT CARSON – Wife of One-Time Governor Passes Away Suddenly – Many Years an Invalid
Private funeral services for the late Mrs. Rosco K. Colcord were held in Carson City this morning at the family residence. J.L. Harvey of the Presbyterian Church officiated. At the request of the family, flowers were omitted.
Mrs. Frances Colcord passed away suddenly, at 7:30 o'clock Sunday morning. She had been an invalid for a number of years but had apparently been in as good health recently as she had for years. The death came as a surprise.
Deceased was born September 13, 1847, at Lewiston, Ill., and her maiden name was Mary Frances Hopkins. She was educated in California and after completing her education joined her father Col. L. B. Hopkins, a mine superintendent at Virginia City. She married Mr. Colcord at Virginia City on April 25, 1808.
When her husband became governor in 1891, Mrs. Colcord move with the family from Aurora to Carson and had made here home there ever since.
In addition to her husband she is survived by a daughter, Mrs. Allan A. Stafford.
Sparks Tribune 26 December 1923:1
Bibliography:
"Mrs. Colcord's Funeral at Carson." Sparks Tribune. 26 Dec. 1923:1. Print.
"My Neighbor Gov. Colcord." Las Vegas Review Journal, 5 May 1968, sec. The Nevadan:24. Print.
Myles, Myrtle T.. "Nevada Governors, Part III", Las Vegas Review Journal 3 May 1964, sec. The Nevadan: 26. Print.
Sawyer, Bette. "Nevada's 100 Years of First Ladies." Nevada Centennial Magazine, 1964:129.
Myles, Myrtle Tate. "Roswell Keyes Colcord." Nevada's Governors: From Territorial Days to the Present, 1861-1971. Sparks, NV: Western Printing & Publishing Company, 1972. 50-51. Print.
Nylen, Robert A., and Guy Louis Rocha. "Mary Frances (Hopkins) Colcord." State of Nevada: The Historical Governor's Mansion. Carson City, Nevada: Dema Guinn, the Nevada Commission on Tourism, Nevada Magazine, and the Nevada Department of Cultural Affairs, 2005. 28. Print.