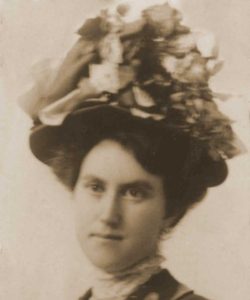 UNA (REILLY) DICKERSON* (1881 – 1959)
(*First Lady born in Nevada, Hamilton, White Pine Co.)
Governor Denver S. Dickerson (1908 – 1910)
The information below has been compiled from a variety of sources. If the reader has access to information that can be documented and that will correct or add to this woman's biographical information, please contact the Nevada Women's History Project.
At A Glance:
Born: July 12, 1881 (Hamilton NV)
Died: 9 Apr 1959 (Reno NV)
Burial: Carson City, NV
Maiden Name: Una Reilly
Race/Nationality/Ethnic Background: Caucasian
Married: 23 Apr 1904 (Hamilton NV)
Children: Harvey, Norinne, June, Donald, Denver, Barbara, Belford, George
Primary City and County of Residence and Work:
Carson City NV, Reno, NV
Major Fields of Work: First Lady, Librarian
Other Role Identities: Wife, Mother
Biography
Euphrasia Louisa "Una" (Reilly) Dickerson, born July 12, 1881, to James Reilly and Elizabeth Doyle Reilly in Hamilton, Nevada, was the first native Nevadan to become a Nevada First Lady. Her father owned a dry goods store and was the Postmaster of the small town of Hamilton, which was founded after the discovery of rich silver ore in 1868. Hamilton was one of the boom/bust towns created throughout the state, and at the time of Una's birth, held the distinction of being the county seat of White Pine County. Una and her siblings, Norenne, James, Liza, Harvey and Garrett lived in this small mining town until their father's death in1886. Una's mother was left to care for six children under the age of twelve.
In 1900 Nevada's population was 42,335 and the 1900 Federal Census found 18 year old Una teaching school in a one room schoolhouse in Cherry Creek, Nevada. During the early 1900's young, single schoolteachers were housed with families in the small towns or on ranches where they were contracted to teach. Una boarded with a local saddler by the name of Ira McKnight, his wife and two sons. The town, located north of Ely, Nevada was organized after the discovery of ore deposits in 1872 and was named after the wild chokecherries that grew along its stream.
Grandson Denver S. Dickerson related a family story about how Una and his grandfather Denver met. Mustered out of the U.S. Cavalry after the Spanish- American War, Denver Dickerson decided to leave Oregon with a friend to seek his fortune in California until destiny intervened. He rode his horse down the Steptoe Valley when, some days later, he reached Cherry Creek just as night was falling. He stopped for the night at a local hotel and was informed that a masked ball was being held later in the evening. The event was a box social in which a dinner prepared by the ladies was shared with whomever they were dancing with when the masks were removed at the stroke of midnight. As the clock tolled, Dickerson saw the face of Cherry Creek's school marm for the first time. The next morning, when his trail partner suggested it was time to hit the road, Dickerson replied he had decided to stay over for a few days.
On April 23, 1904, the Eureka Sentinel announced the marriage of Mr. D.S. Dickerson and Miss Una Reilly which took place in the parlors of the Brown Hotel. It was noted in the newspaper article that Una was "a very capable young lady, possessing marked clerical ability and efficiently filled the position of Minute Clerk in the Nevada Assembly of 1903". A later publication, Mothers of Achievement in American History 1776-1976, noted Una Reilly had attended business school in Michigan and had returned to the State of Nevada to serve as Minute Clerk for the Nevada State Legislature.
The newlywed couple made their home in Ely, Nevada where her husband was the White Pine County Recorder. In Ely, the family grew larger by one when son Harvey was born. Denver Dickerson was elected Lieutenant Governor in 1906 at age 34 and the family moved to Carson City, Nevada with new baby Norinne. Denver S. Dickerson became Nevada's 11th and youngest Governor upon the untimely death of Governor John Sparks in 1908. In July, 1909, the Dickersons became the first occupants of Nevada's newly constructed Governor's Mansion.
Daughter June, the only child ever to have been born in the Governor's mansion, arrived shortly thereafter. A special train from Reno brought guests for what was reported to be an "elaborate Reception," as the Mansion was opened the public for the first time on New Year's Day 1910. The classical revival structure has continued to house Nevada's governors and their families for over one hundred years.
Carson City remained home for Una for the next fourteen years, during which time the Dickerson's added five more children to their family. With school-age children, there were always demands on her time. Una was a leader in the many social events that took place in Carson City during those years. Denver held the positions of Warden of the Nevada Penitentiary, Federal Superintendent of Prisons and again Warden of the Nevada Penitentiary. It was there that he passed away at age 53 on November 28, 1925. Like her mother before her, Una was left a widow with eight children to care for – ages 19, 17, 15, 14, 10, 3 year old twins and a 2 year old! Una had to go to work. Fortunately the skills that she learned in Business School, honed in the Nevada State Legislature, enabled her to obtain a position In Reno as law librarian for the Washoe County Library. She held this position until her retirement in 1956. During her years as law librarian, Una had the opportunity to meet many of the young, up- and-coming new attorneys and attorneys to be. An article in the February 4, 1935, Reno Evening Gazette noted Una Reilly Dickerson had assisted a generation of Nevada lawyers studying for the bar in the research area of the Washoe County Library. She never failed to help the mostly young men in their endeavors to obtain information. Patti Bernard, local historian, stated that even today, in 2014, Una's reputation for knowing the law is still legend at the Washoe County Law Library. In 1945, Una Reilly Dickerson was Nevada's first "Mother of the Year", an honor bestowed on her by the American Federation of Women's Clubs.
Una raised her eight children into adulthood, no small feat during the times when diseases such as polio, diphtheria, tuberculosis, pneumonia and influenza (e.g. influenza pandemic of 1918) often took the lives of children in Nevada and the United States. Many of Una Reilly Dickerson's children went on to become prominent Nevada figures in their adult lives. Daughter Norinne Buck attributed their success to "…my mother's love and guidance. I feel we have all tried to live up to her confidence and faith in us, and I know she was proud of all of us."
In March 2014, Una's grandson, Denver Dickerson, wrote: "When I think of the courage and determination of this woman – alone through the Great Depression, seeing that her children were properly raised, and that all of them received an education, I am filled with pride and emotion for a wonderful person, whose unique role in the history of Nevada is forever secured."
Una's retirement in August of 1957 had been precipitated by a fall at her home where she sustained a fractured arm. She continued to live at her home in Reno until her death on April 9, 1959 in a Reno hospital. She was 77 years old. She is buried in Lone Mountain Cemetery in Carson City, Nevada alongside husband Denver S. Dickerson.
Researched and written by Marcia Bernard Cuccaro. Posted April 21, 2016.
Bibliography:
"Dickerson – Reilly Wedding." Eureka Sentinel 30 Apr. 1904. Print.
"Mrs. D. Dickerson May Run for Treasurer." Reno Evening Gazette [Reno] 23 July 1928:6. Print.
"Mrs. Una Dickerson, widow of former Gov. Denver Dickerson announced she might be a candidate for the state treasurer on the democratic ticket." Reno Evening Gazette 24 July 1953, Sec, 25 Years Ago Today: 4. Print.
"Mrs. Una Dickerson Breaks Arm in Fall." Nevada State Journal [Reno]21 August 1955:3. Print.
"Retires-Washoe County Law Librarian Leaves Post." Reno Evening Gazette 5 Nov. 1956:2. Print.
"Mrs. Una Dickerson is Recovering At Hospital In Reno." Nevada State Journal [Reno] 8 Aug. 1957:8. Print.
"Una Dickerson Passes In Reno After Long Illness." Nevada Appeal [Carson City]10 April 1959 sec. Vital Statistics: 1-2. Print.
"Dickerson." Reno Evening Gazette 10 April 1959, sec. Vital Statistics: 17. Print.
"Widow of Former Governor Dies." Oakland Tribune 11 April 1959, sec. B:3. Print.
"The First Holidays in Nevada's Governor's Mansion." Las Vegas Review Journal 24 Dec. 1967, sec. The Nevadan: 24. Print.
Dickerson Family. Commemorative "In Memory of our Mother Una R. Dickerson. Reno, NV: unknown publisher, Unknown . Print.
Jackson, W. Turrentine. Treasure Hill: Portrait of a Silver Mining Camp. Tuscon: University of Arizona Press, 1953. 23-27. Print.
Myles, Myrtle Tate. "Denver Silvester Dickerson." Nevada's Governors: From Territorial Days to the Present, 1861-1971, Sparks, NV: Western Printing & Publishing Company, 1972. 74-75. Print.
Sawyer, Bette. "Nevada's 100 Years of First Ladies." Nevada Centennial Magazine, 1964:126.Print.
American Mothers Committee. Mothers of Achievement in American History. Rutland, VT: Charles E. Tuttle Co., 1976. Print.
Dickerson Family. In Memory of our Mother, Una R. Dickerson. Reno, NV: unknown publisher, n.d. Print.
Governors' kids roll call." Reno Gazette Journal 2 Nov. 1997, sec. B: 2. Print.
Nylen, Robert A., and Guy Louis Rocha, "Una Reilly Dickerson." State of Nevada: The Historical Governor's Mansion. Carson City, Nevada: Dema Guinn, the Nevada Commission on Tourism, Nevada Magazine and the Nevada Department of Cultural Affairs, 2005.39. Print.
Harpster, Jack. "The Accidental Governor: Denver Dickerson." 100 Years in the Nevada Governor's Mansion, Las Vegas, NV: Stephens Press, LLC, 2009. 36-42. Print.
"Hamilton – Nevada Ghost Town." Ghosttowns.com. Atjeu Publishing, n.d. Web. 7 Apr. 2014.
"Cherry Creek – Nevada Ghost Town." Ghosttowns.com. Atjeu Publishing, n.d. Web. 7 Apr. 2014.
"History of Nevada – Dates and Events". Visit Carson City, 2014. Web. 30 Mar. 2014.
"Lone Mountain Cemetery." Carson City: Home. Ed. M. Glancy. Official Carson City Website, 2014. Web. Mar. 30, 2014.
Cuccaro, Marcia. "Re: Una Dickerson." Correspondence with Denver S. Dickerson. Mar. 2014 (multiple dates).Email