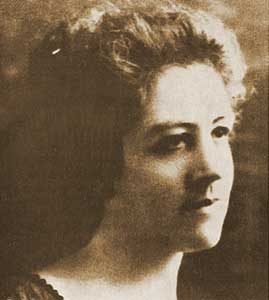 VIDA Margaret (McCLURE) BOYLE (1880 – 1972)
*2nd First Lady to be born in Nevada (Virginia City)
Governor Emmet D. Boyle (1915 – 1922)
The information below has been compiled from a variety of sources. If the reader has access to information that can be documented and that will correct or add to this woman's biographical information, please contact the Nevada Women's History Project.
At A Glance:
Born: 24 June 1880 (Virginia City, NV)
Died: 13 May 1972 (Reno, NV)
Burial: Reno, NV
Maiden Name: Vida Margaret McClure
Race/Nationality/Ethnic Background: Caucasian
Married: 8 Sept 1903 (San Francisco, CA)
Children: None
Primary City and County of Residence and Work:
Carson City NV, Reno NV
Major Fields of Work: First Lady
Other Role Identities: Wife, Newspaper Publisher, World Traveler
Vida McClure Boyle, the 13th Nevada First LadyBiography:
Vida McClure Boyle, the second First Lady born in Nevada, married to the first Nevada-born governor, Emmet Derby Boyle, embodied her state's values all her life. She was the state's thirteenth Nevada First Lady.
Born June 24, 1880, in Virginia City to Alice (Abeel) and Barney McClure, she grew up in mining towns across the state, enduring hard times and reveling in prosperous days, and always enjoying her life and experiences.
Vida's grandparents came West in the 1850s, like many pioneers looking for fortune in the California Gold Rush, and settled in Virginia City. Vida said she learned to walk in Hawthorne, Nev., where her father worked for the Carson and Colorado Railroad, an enterprise of the famed Virginia and Truckee Railroad.
When she reached school age, the family moved to Carson City where Vida's father managed the opera house and the office of the Bliss Box factory. As was often the case on the Western frontiers, the family bore several children but only she and her brother Lowe survived. An Indian woman, Lizzie, served the family beginning in Vida's childhood and later accompanied the Boyles in that capacity during their Mansion years. Vida remembered watching the construction of the present Governor's Mansion, probably never dreaming she (and Lizzie) would later live there.
After acting once in a local play for a child actor taken ill, the young girl aspired to be an actress, a career path not well thought of in her time. She wrote poetry and also loved music and later in life taught piano students. But many of her dreams, such as attending college, changed when she contracted rheumatic fever while in high school and spent two years bedridden.
She met Emmet Boyle, born one year earlier than Vida in Gold Hill, Nev., through mutual friends in Carson City. Boyle had earned a degree in mining engineering from the University of Nevada and was working in Mexico when his father, a prominent Comstock mining man and a state legislator from Storey County, was killed in an accident.
The couple was married on Sept. 8, 1903 in San Francisco where 20 relatives attended the service at the Bella Vista Hotel. Traveling by train, they honeymooned in Los Angeles, Monterey and Santa Barbara, Calif.
Boyle had previously assumed his father's post as the superintendent of the North Rapidan Mine in Como, Nev., in the hills above Dayton. It was a change from the joys of a California honeymoon to the stark reality of Nevada's mining towns. Como was undeveloped and could be reached only by a very bad road and a horse-drawn wagon.
After an incident when a rattlesnake landed on the wagon seat next to her husband, Vida insisted on better, safer transportation, and they bought a Chevrolet. She remembered changing tires on the car herself several times.
After Como, the Boyles moved to the mining towns of Dayton and Yerington and landed in Virginia City in 1906. Conditions in the Comstock were still primitive. Vida remembered putting on her winter boots to visit the bathroom on the outdoors porch of their second-floor apartment. She told stories of a rat in her bathtub, goats in town, tin cans rattling down the street in a high wind, and a drunkard on the stairs.
Boyle was elected Nevada Governor in 1915 at age 35, the youngest governor in Nevada history, and the couple moved into the Carson City Governor's Mansion. Their Inaugural Ball was called "one of the most pleasant social affairs ever attempted in Nevada," by the Carson City Daily Appeal. A large reception for about 500 people was followed with dancing in an elegantly decorated hall with streamers of artificial flowers and electric lights. Traveling by train from Reno, many university students attended. At one point, the male students "encircled Governor Boyle and wife and gave the college yell. Then, joined by numerous girl students, they rendered the university song."
In the mansion living conditions were better than in the mining towns, but not by much. Help, during the First World War, was scarce. Often Vida had to be cook, housekeeper, and hostess all at once. Emmet Boyle insisted on keeping expenses down during the war effort, and would not accept prison labor or even cream produced at the state prison. Oil and coal for heating were so scarce that the family put wood burning stoves in the mansion's rooms. "We nearly froze to death in our bathroom," Vida said.
The young couple brought a lively social life to the mansion. "We would roll back the rug and invite young people to dance and sing," with the governor and his wife playing piano. She vigorously refuted criticism that the hardwood floors suffered damage from the dancing, saying the floors were not hardwood but plain ordinary wood.
Often they would have to entertain on the spur of the moment. Short of help and with only one car for the governor, Vida would telephone the local telegraph office to ask for a messenger boy to pick up groceries for an impromptu dinner party.
In 1922, after Boyle's two terms in office, the couple moved to Reno. Boyle bought the town's newspaper, the Nevada State Journal, and published it until he died at age 46 in January 1926. His widow then published the newspaper. Former Governor James G. Scrugham bought part ownership later that year, and he and Vida served on the governing board.
Widowed, Vida made her home with her aunt and a friend, Helen Belford, in Reno. She continued to be active in the town's social and civic activities. She also made extended visits to relatives in California and for a time lived in San Francisco. She voyaged to Europe for six months in 1937. Nevada Governor Edward Carville appointed Vida to be in charge of the Nevada State exhibit at the 1939 San Francisco World Fair at Treasure Island. In 1959 she helped stage a successful Silver Centennial Celebration in Virginia City and was honored at a reception at the Governor's Mansion.
In 1963, Governor Grant Sawyer paid her tribute as a "strong force in the improvement of workmen's compensation laws." Legislation dealing with that issue was passed during her husband's administration.
She died on May 13, 1972 at age 91 and was buried next to her husband in Reno's Mountain View Cemetery. After her death, according to her wish, a scholarship was set up in the couple's names to the Mackey School of Mines at the University of Nevada.
Nevada State Journal reporter Joan Elder asked Vida in a 1964 interview, "What was the most fun, your life as first lady or as wife to a mining engineer?'
Vida responded, "Oh, being wife to a journalist. That was the most exciting. Then the mining, Then politics, Oh, but of course, it was all fun."

Written by Janice Hoke. Posted January 22, 2016.
Bibliography:
"Married." Nevada Appeal. [Carson City] 1 Oct. 1903:3. Print.
"Young Nevadans Wedded In Frisco." Nevada State Journal [Reno] 1 Oct. 1903:3. Print.
"Inaugural Ball an Occasion That Will Be Long Remembered." Nevada Daily Appeal [Carson City] 29 Jan. 1915:1. Print.
"Scrugham and Journal." Nevada State Journal [Reno] 9 Dec. 1926:4. Print.
"Governor Scrugham Takes Control Of The Journal." Nevada State Journal [Reno] 1 Dec. 1926:1. Print.
"Situated in Berkley. "Nevada State Journal [Reno] 13 Mar. 1927, Sec: Carson City News: 7. Print.
"Col. McClure Estate Filed Here." Reno Evening Gazette [Reno] 8 Nov. 1934:12. Print.
"Mrs. V. Boyle Visiting Here." Nevada State Journal [Reno] 23 Feb. 1937:4. Print.
"Vida Boyle will Depart For Europe." Nevada State Journal [Reno] 13 Mar. 1937:8. Print.
"Mrs. Vida Boyle In Paris." Nevada State Journal [Reno] 18 June 1937:4. Print.
"Vida Boyle Home From Europe." Nevada State Journal [Reno] 1 Sept. 1937:5. Print.
"Mrs. Belford, Mrs. Boyle Return From Bay City." Nevada State Journal [Reno] 2 Jan 1938:8. Print.
"Treasure Island Welcomes Silver State Delegates." The Salt Lake Tribune. 4 Aug. 1940:12A. Print.
"Silver State Delegates." Salt Lake Tribune. 8 April 1940:12. Print.
"Silver Centennial Celebration Enjoyed by 200 in Carson City." Reno Evening Gazette 7 Oct 1959:16. Print.
"Reno Resident Since '03 Dies." Reno Evening Gazette [Reno] 19 Dec. 1960:13. Print. (cousin)
"Agency's Birthday Observed." Nevada State Journal [Reno] 2 July 1963:14. Print.
"Vida Boyle: Her Memories of Nevada's Coming of Age Drawn from Life in Mining Towns, Mansion." Nevada State Journal [Reno] 8 Mar. 1964:28. Print.
MEMOIRS OF THE WIFE OF A GOVERNOR AND OF THE EARLY 1900S IN VIRGINIA CITY, undated. (NC237); Special Collections and University Archives Department, University of Nevada, Reno, Nevada. July 20, 2010.
"Vida Boyle-Her Memories Of Nevada's Coming Of Age Drawn From Life In Mining Towns, Mansion." Nevada State Journal [Reno] 6 Mar. 1964:28. Print.
"Area Deaths-Mary McClure." Reno Evening Gazette 7 July 1964:13. Print.
Sawyer, Bette. "Nevada's 100 Years of First Ladies." Nevada Centennial Magazine. 1964: p. 128. Print.
"Vida McClure Boyle." Nevada State Journal 8 Mar. 1964, sec. Deaths:28. Print.
"Vida Boyle, 91, Widow Of Former Governor, Dies." Reno Evening Gazette 15 May 1972:11. Print
Myles, Myrtle Tate. Emmet Derby Boyle." Nevada's Governors: From Territorial Days to the Present. 1861-1971. Sparks, NV: Western Printing & Publishing Company, 1972. 84-86: Print.
"Boyle-Vida McClure." Nevada State Journal [Reno] 16 May 1972, sec. Death Notice: 3. Print.
"Scholarship Honors Ex-Governor, wife." Reno Evening Gazette 18 Jan. 1975:20. Print.
Myles, Myrtle Tate. "Emmet Derby Boyle." Nevada's Governors: From Territorial Days to the Present, 1861-197. Sparks, NV: Western Printing & Publishing Company, 1972. p. 84-86. Print.
Nylen, Robert A., and Guy Louis Rocha. "Vida Margaret (McClure) Boyle." State of Nevada: The Historical Governor's Mansion. Carson City, Nevada: Dema Guinn, the Nevada Commission on Tourism, Nevada Magazine, and the Nevada Department of Cultural Affairs, 2005.34. Print.
Harpster, Jack. "The Great War: Governor Emmet Boyle." 100 Years in the Nevada Governor's Mansion." Las Vegas, NV: Stephens Press, LLC, 2009. 54-60. Print.