Posted on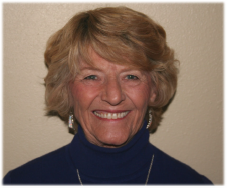 The Women of Achievement honors luncheon is back after a two-year hiatus because of COVID.
In 2020, NWHP nominated Laura Tennant for our Woman of Achievement, but the event was cancelled. She has graciously agreed to be our 2022 recipient.
Laura is a phenomenal researcher and Nevada historian. Unlike many historians who work for their own insight, Laura has continually shared her information on Nevada's men and women for several decades. She was a reporter/editor of the Dayton Courier for 18 years and was a major contributor to the annual Lyon County Reflections. Laura also was the founder of the Dayton Valley Days, the Historical Society of Dayton Valley, the Dayton Museum, and the Dayton Preservation Committee. She and Jack Folmar compiled the Images of America: Dayton book of photographs and descriptions of Dayton, Nev., published by Arcadia books.
During all these activities, Laura has given equal disclosure to women. For a historian this is a remarkable statement, as women are usually ignored in the telling of history. For many years the NWHP has clipped Laura's articles for inclusion in our NWHP manuscript collection at the Nevada Historical Society. Her contribution to the history of Nevada women is greatly appreciated by the NWHP.
Laura is a Silver City, Nevada native, born on September 11, 1938. Her great uncles, Tom, Gurner, Bill and Frank Gordon were Pennsylvania and Ohio Valley coal miners, who were lured to the Comstock Lode gold mines in the early 1900s. In 1935 Laura's mother Zoe Goss left Pennsylvania when her Uncle Frank paid her way to Silver City, where she met Harold Eckelbarger, a college-educated mill man and assayer in Silver City and they married in 1936.
Laura was educated in Nevada one-room schoolhouses and graduated from the Old Dayton High School. She married and had four children: Darrell, Laurie, Matt and Sheri. Following a divorce, Laura married Stony Tennant and had two daughters: Melissa and Nicole. They now have 23 grandchildren and over 2-dozen great-grandchildren.
The work Laura has done for the Dayton Valley cannot be overstated. Because of her uncountable hours of research and hard work over 30 years, there is a historical museum and historical society in Dayton, which also oversees the old jail and St. Ann's church.
Laura is truly an inspiration for historians in Nevada. She has written many historical articles for the Mason Valley News and continues to publish in the Comstock Chronicle.
Laura will be honored on June 30, 2022 at the Nevada Women's Fund elegant luncheon event. Tickets are already gone for the NWHP table at this event.