Posted on
By Marcia Cuccaro
The Hidden Valley Golf Club in Reno hosted the October 7th NWHP luncheon event honoring Sally Springmeyer Zanjani and Sarah Winnemucca sculptor, Benjamin Victor. At the age of 26, Mr. Victor became the youngest artist ever to have a statue in Washington D.C.'s National Statuary Hall Collection. He was chosen to create this statue by a group of dedicated NWHP members chaired by Mary Anne Convis and the late Carrie Townley Porter. During Mr. Victor's presentation at the luncheon, he shared that he had used Dr. Zanjani's book, Sarah Winnemucca along with Sarah Winnemucca Hopkins' book, Life among the Paiutes: Their Wrongs and Claims to research and create his signature and detailed vision of Sarah Winnemucca. He graciously and eloquently regaled all in attendance with stories of his experience with the Sarah Winnemucca statue project and related that he had made lifelong friendships during that process.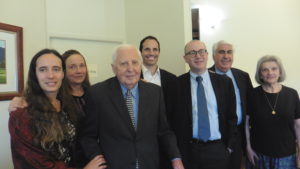 In attendance at Sunday's luncheon were many of the proponents of the Sarah Winnemucca statue project, including former Nevada First Lady Dema Guinn, Dr. Zanjani's husband, Esmail, members of the Zanjani family and members of the NWHP who were integral to the actualization of getting Sarah Winnemucca's statue into the National Statuary Hall Collection. Once the statue was completed, shipped to Washington, D.C. and scheduled for dedication, over 40 NWHP statewide members flew to Washington to attend the March 2005 event. NWHP member Kathleen Clemence had planned and executed travel arrangements and attendance at various Washington D.C. events for all members in addition to the statue dedication. Traditionally, statue dedication invitations are doled out to Congressional members who invite their own friends and constituents. They may or may not include the "general public" of the host state as tickets to these events are very limited. The Nevada "Sarah" dedication was an exception and will never be replicated again and we owe Kathleen a great deal of thanks for making our attendance possible.
Benjamin Victor, now age 39, is the only living sculptor to hold the honor of having three statues in Washington's National Statuary Hall Collection. His two others are Dr. Norman Borlaug (Iowa – 2014) and Ponca Chief Standing Bear (2018 – Nebraska).
For more information on Benjamin Victor visit: http://benjaminvictor.com/