Posted on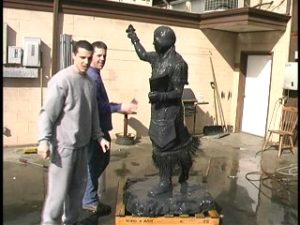 As we look forward to a New Year in the NWHP, it's fun to remember how far we've come as a project and reflect on the amazing opportunities we've had to research, discuss, and celebrate Nevada women's history.
Over the past decades, the NWHP has accomplished much in preserving the stories of women who've shaped our state. Perhaps one of the greatest NWHP achievements has been the Sarah Winnemucca Statue Project.  Beginning in fall of 2000, members of the NWHP began their mission to  honor Sarah Winnemucca and the vision she had for Nevada. After their many years of  promoting legislative action and statewide fundraising, they saw their  efforts culminated in the dedication of a beautiful larger than life-size statue that now stands in Washington D.C. This statue, created by Benjamin Victor, fills the place of Nevada's 2nd allocated statue located in Statuary Hall- serving as a tribute to a truly remarkable Nevadan.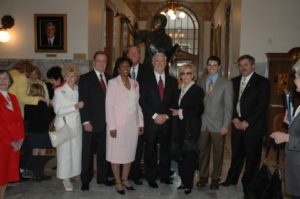 Sarah Winnemucca's work as an activist, educator and writer has become celebrated throughout Nevada and beyond. A second statue is located in the state Capitol in Carson City and a third in Las Vegas. NWHP documented this journey with several videos to be found on our website, as well as YouTube.
In 2016, four high school students from Central High School in Philadelphia researched Sarah Winnemucca for a National History Day group documentary project. The theme was "Taking a Stand in History." They discovered the video ,produced by Gwen Clancy, about the effort to erect a statue of Sarah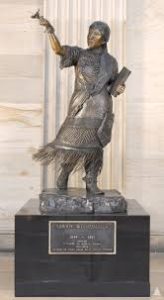 Winnemucca to represent Nevada in the National Statuary Hall collection.
The students were Siqi Zheng, Enwei Shang, Miriam Solowy and Lucy Shu. They had seen the statue of Sarah Winnemucca at the U.S. Capitol and contacted the Nevada Women's History Project  who then sent a copy of the book, "It Can Be Done," detailing the process.
The students also conducted an interview on the phone with NWHP member Holly Van Valkenburgh to add to their research. The NWHP was excited to find out that the Sarah Winnemucca statue was being appreciated by people all over the Nation, and drawing attention to the Sarah Winnemucca's history in Nevada.

So what does the Sarah Winnemucca statue project have to do with this New Year? As the NWHP publication is titled, It Can Be Done, we like to see the New Year as a new opportunity to overcome challenges, and continue to preserve Nevada's rich history for generations to come.