Posted on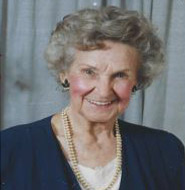 NWHP Women of Achievement – Honoree 2001
Lovelock native Alice Gottschalk Downer was honored on May 2nd as the 2001 Woman of Achievement representing the Nevada Women's History Project. Alice was recognized for her contributions to education, community service, and research into the lives of pioneer Nevada women and their families. She was introduced at a luncheon held at the Reno Hilton.
Alice has been a member of the Nevada Women's History Project since 1997. She was born and raised in Lovelock and received her Normal Degree in Education from the University of Nevada, Reno. She taught for twenty-five years beginning with the Old Anderson School on South Virginia Street in downerReno during World War II. Her teaching experience included working with Marcie Herz's private school in the 1950s, followed by years of service in El Dorado and Alpine Counties, California. During this time she earned a B. Ed. Degree from California State University in Sacramento.
Moving to Carson Valley, Nevada in the 1960s, Alice continued to teach in Alpine County, California until she retired in 198. She was active in and served as president of the University Women's Club and the Carson Valley Literary Club in that community. She chaired the Easter Seal campaign, served on the Board of Directors of Common Cause, held the office of secretary/treasurer of the Douglas County Democratic Central Committee, and is a life member of the Carson City Democratic Women's Club. She also is a life member of Sertoma International and volunteered for years in membership drives for Community Concert in Carson City.
Currently she and her daughter are researching the lives of early Cornish families who came to Nevada in the 1900s to work in the mines. Alice's grandfather and grandmother, both natives of Cornwall, England, were married in Austin, Nevada in 1878. Another of her projects is doing research on the early Scandinavian families who settled in the Lovelock area.
Alice and her husband Robert, who passed away December 20, 2000, celebrated 66 years of marriage. They were dedicated to their three children, five grandchildren and five great-grandchildren. Alice enjoys reading, playing the piano, walking and has plans to do some traveling this summer.
The Nevada Women's Fund, of which the Nevada Women's History Project is a program, has sponsored the Women of Achievement event for ten years. The women honored are selected by organizations throughout the region for their contributions to the strength and vitality of our community. Funds raised from the Salute to Women of Achievement Awards Luncheon help to provide scholarships and programs serving women and children in Nevada.
From NWHP News Vol. 6, No. 2, May 2001, pg. 9