Posted on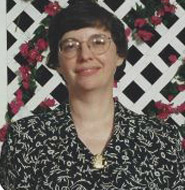 NWHP Women of Achievement – Honoree 2000
Betty Glass, co-author with Jean Ford and Martha Gould, of Women in Nevada History: An Annotated Bibliography of Published Sources has been selected by the NWHP for the 2000 Women of Achievement award sponsored by the Nevada Women's Fund in Reno. She will receive the award at a luncheon to be held May 24th in Reno.glass
Betty has been a member of the Nevada Women's History Project since 1996. She moved to Nevada in 1990 when she took a position as Instructional Services Librarian at the University of Nevada, Reno. She met Jean Ford and signed up for Jean's course, "Nevada Women on the Frontier" to learn more about her adopted state. After joining the NWHP and becoming active as a member of the Steering Committee in the North, Betty was asked by Jean to help coordinate and co-edit the Bibliography.
Betty graduated magma cum laude from Carson-Newman College in Tennessee, majoring in English and philosophy. She obtained her master's degree in librarianship and information science from the University of Tennessee-Knoxville. She is a past Chair of the Association of College and Research Libraries' Women's Studies Section and serves on the Jean Ford Scholarship Committee of the Women's Studies Advisory Board at UNR. Her current position is as Associate Professor and Humanities Bibliographer for the University of Nevada, Reno Library System.
Betty is a member of the Sierra Club and can occasionally be spotted on a horse or hiking trail in the western Nevada region.
By Kay Sanders. From the NWHP News, Vol. 5, No. 2, May 2000, pg. 3.