Posted on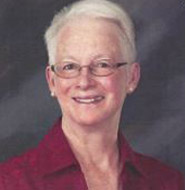 NWHP Women of Achievement – Honoree 2011
Grace worked in the accounting and auditing fields before retiring. A second 'career' began when she joined the NWHP to help collect women's histories.
"The realization that so much valuable and fascinating history has not been preserved for future generations makes being a part of this organization a very rewarding experience."
Grace is a third-generation Nevadan. She and her husband Ken live in Reno, and are fortunate to have their children, grandchildren and great-grandchildren residing in the Reno area.
In Grace's words:davis
Monday June 13, 2011 was the annual Women of Achievement luncheon where 62 local women were honored for their contributions to the community. I was honored that the NWHP thought my accomplishments worthy to be included with so many accomplished women who have contributed so much to our community.
When the NWHP asked for a brief statement from each honoree, I realized that after retiring, I really began a second 'career' with the NWHP in helping with the collecting and preserving of women's histories. The realization that so much valuable and fascinating history has not been preserved for future generations makes being a part of the Nevada Women's History Project a very regarding experience.
The morning began with a breakfast at the Sparks Nugget where there was an opportunity to interact with so many interesting women who are deeply involved in numerous activities that support women's issues in Northern Nevada. Both the breakfast event and the luncheon for Women of Achievement were wonderful reflections on the contributions the Nevada Women's Fund makes to our community. This is accomplished through their scholarship program and the support they provide to many organizations such as the Committee to Aid Abused Women, Access to Healthcare Network, Care Chest, Step2 Inc., Crisis Call, Safe Embrace to name just a few.
Some of the guest speakers at both the breakfast and the luncheon were previous scholarship recipients and their achievements were a testimonial to the success of the program. Over 1,000 people attended the luncheon to support the Nevada Women's Fund and to welcome some of the previous scholarship recipients.
The luncheon's keynote speaker was Barbara Corcoran, who is a well-known real estate mogul, a nationally known television personality as well as a successful author. She spoke eloquently to the subject of how women must be prepared mentally to take advantage of any opportunity that might present itself in the pursuit of a career. Barbara described her early years of poor grades and dyslexia and the 29 jobs that she passed through before she took stock of her strengths and weaknesses, and where she was at that point in her life. Her story of taking $1,000 of seed money and turning it into a real estate business that ultimately sold for $66,000,000 was captivating.
Congratulations to the Nevada Women's Fund for another successful event. And thank you to the Nevada Women's History Project for this honor. This day will stand out in my memory for years to come!

From the NWHP News, July 2011, pg. 1-2.