Posted on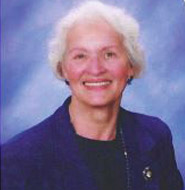 NWHP Women of Achievement – Honoree 2010
I met Jean Ford when she was teaching the Travel class at Reno Business College and I was the Librarian. She invited me to participate in the initial meeting of the Nevada Women's History Project and our association continued. It was certainly an exciting time!
During the years I have been the Chair of the North Steering Committee, the Vice-Chair, Treasurer and Program Chair. I served on the State Board as Project Review Chair and am currently in that position.
Patty Cafferata and I created the "Letters from Nevada's Daughters" Project which is now called "Telling My Story." Women of Nevada are encouraged to provide information about their lives in the 20th and now 21st centuries for future histories of Nevada.
Currently I am on the committee to create a video about Jean Ford and the NWHP. I am also involved in gathering information about all the Women of Achievement awardees to put their information on our webpage.
I worked in libraries as a college student and began my professional career as an elementary school teacher, then a school librarian, academic librarian and public librarian. I now reside in Carson City where I am the Consulting Librarian for the Nevada State Library.
My BA is in Elementary Education with a minor in Psychology, 1957. I also have an MA in Libraries and Information Technology, 1965 and the M. Ed. in Computers in Education, 1988.
I was born in New York City, raised in Boulder, Colorado and spent 20 years in northern Wyoming on my way to Nevada, arriving in 1988. For many years I was very active in the American Association of University Women and am currently active in the Nevada Library Association, the Grassroots Lobby and the Capital Red Hatters. My favorite sport is white water rafting and, of course, I love to read!
From the NWHP News, Vol. 15, No. 3, 2010, pg. 10.