Posted on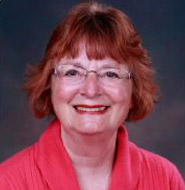 NWHP Women of Achievement – Honoree 2012
Linda Wyckoff has lived in Reno, Nevada since 1979. Originally from New Brunswick in eastern Canada, she came to the western US with her geologist husband. She graduated from UNR in 1983 with a Master's in Business Administration. In the mid-90's she became an American citizen but, fortunately, did not have to relinquish her Canadian citizenship. She returns to Canada regularly to visit friends and family.
She has worked in finance, budgeting and accounting, most recently, for Abaris Training Resources which is a private technical school that teaches repair, fabrication and design in advanced composite materials. Previously she worked for a wood-trim products company, a defense electronics engineering firm and a local Reno accounting firm, Pangborn and Company.
Linda was recruited by Jean Ford to be one of the original members of the Nevada Women's History Project. She served as its first treasurer. She has been treasurer again for the past five years. In 2012, she was the History Project's nominee for Woman of Achievement at the Nevada Women's Fund annual celebration. In 2013, she successfully led the NWHP to obtain 501(c)(3) status from the IRS.
Other community service has included board membership at the YWCA and Washoe Legal Services. She is an enthusiastic traveler, lately to Spain and to Scandinavia. She enjoys cooking and reading and regularly attends concerts of the Reno Symphony and the Reno Chamber Orchestra. In retirement for the last two years, she has discovered UNR's Olli classes, especially the lively discussions from the Big Question book group.