Posted on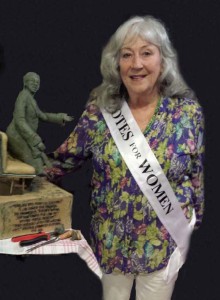 In 2014, NWHP collaborated on a project with Women of Diversity, Inc., a southern Nevada nonprofit women's organization. They had received a substantial grant to conduct oral histories of approximately 75 Nevada women as part of Nevada's Sesquicentennial anniversary activities. Since our statewide organization is based in Reno, NWHP volunteered to conduct oral histories in the northern counties. The interview team was composed of Gwen Clancy, Mona Reno, Patti Bernard and Tess Opferman. Sarah Sweetwater
Sarah Sweetwater, of Elko, was on our list of interviewees. Arriving at her studio/ house was an amazing experience. Her small, typical, 1950s house stood out from the rest of the neighborhood by a rather unusual second story addition and sun porch that Sarah later proudly proclaimed was heated by solar energy and partially built by her.
This gracious lady warmly greeted us and I immediately felt like I had known her for years. As we entered the porch area, I was transfixed with the amount of art displayed in that very small area that begged further examination. Consisting of both her art and that of other artists, I wandered from painting to pottery, to sculpture, to three dimensional arts that covered every inch of wall and floor space, and competed with plants that also hung from the ceiling.
If the sun porch was the preview, each succeeding room in the house proved to be a main attraction. There were thousands of objects done by her, her students and fellow artists on every inch of wall space, and she could tell the story of each, and of its artist. In her kitchen was a two foot, unfinished, clay sculpture of civil rights activist Rosa Parks. I was so moved by Sarah's simple explanation of her great empathy with the woman and how she hoped to express Rosa's indomitable spirit by the position of her pose.
During Sarah's interview one could easily discern her passion for people and her love of teaching. A full list of accomplishments would run pages, but some of the most important, to her, would be her involvement in West Africa and India to help with polio inoculations, founding the Art Department at the Great Basin College in Elko, her early courses of Pioneer Arts and the hosting of Crafts Folk-life Festivals that led to the founding of the world recognized Elko Cowboy Poetry Gathering. She was the recipient of many awards but in the end she considered herself simply "Sarah Sweetwater, artist".
We videotaped that interview in September of 2014. In November of 2015 she died. Her oral history is now available on the Internet for anyone to see and gain inspiration by what one woman did with her life. [www.nevadawomensvirtualcenter.org Nevada Women's Legacy Videos]
When anyone asks me why I am so passionate about obtaining as many oral histories of Nevada women as quickly as we can obtain funding, my mind immediately goes to Sarah Sweetwater.
Time is a precious commodity.
By Patti Bernard