Posted on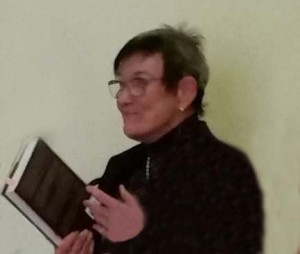 Presenter Lynn Bremer
On a beautiful fall day, we met at historic Rancho San Rafael to learn about Reno educator, poet and author, Mary S. Doten. The program was preceded by a delicious luncheon of a variety of homemade soups, salads, antipasti and desserts provided by NWHP members.
Lynn BremerLynn Bremer, who recently published a two volume anthology of Mary's known writings, presented an informative and insightful portrait of this woman who became one of early Reno's most beloved educators, and who was honored by having an elementary school named after her shortly before her death in 1914. Mary's role in education was well known, but until Lynn set out to research and compile her numerous short stories, poems, lectures and essays, her literary skill went unrecognized.
By recounting a brief history of Mary's life and reading several selections of her writings, Lynn drew a picture of a woman who experienced the hard scrabble life on the Comstock and later wrote of those experiences from a woman's perspective. Some of her short stories, arguably, can match the quality of any written by her husband.
Mary came to Nevada in 1870 and married Gold Hill newspaper owner, Alf Doten in 1873. She accompanied her husband to several Nevada communities before finally settling down in Reno with her son and two daughters as a teacher and administrator in the Reno school system. She was active in women's suffrage, became a revered education leader, as well as an author and lecturer. Although her husband, Alf Doten is more well-known because of his diaries that were later edited into a multi volume series by Walter Van Tilburg Clark, thanks to Lynn, Mary Stoddard Doten's contributions to Nevada's history will finally be recognized.
By Patti Bernard